Model Teddy Quinlivan opens up about being sexually assaulted in the fashion industry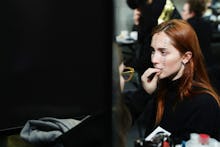 In a new Instagram post on Tuesday, model Teddy Quinlivan opened up about incidents of sexual misconduct that she had experienced on set.
"When I became a model, I knew I would be working long hours and there would be times when people would be mean or critical towards me," she wrote. "What I didn't expect was for a casting director my first season to force himself on me and offer to put me on the cover of magazines in exchange for sex, or the time a stylist stuck his fingers inside my underwear on a closed set and attempted to pull off my underwear without warning, or the time a photographer groped me and pinched my nipple."
But Quinlivan wasn't just using the post to talk about those incidents. She also vowed to stop working with any brands or publications that continue to collaborate with anyone who had been accused of assault.
"There is no fashion show, editorial, campaign, or event that is more important than the safety and well being of both myself and [the] remarkable men and women I work with," she wrote.
When Mic first chatted with Quinlivan back in October, the breakout model alluded to incidents of sexual misconduct, yet she was careful to remain vague.
"When I was living my life as cisgender, there was a ton of horrible, really highly inappropriate things that happened to me in the fashion industry," she told us at the time. "I just think it's important for me to also talk about the fact that there is a lot of crazy shit in terms of power plays and sexual harassment that goes into this business. I've experienced a lot of it. I want to use my platform now to also talk about the fact that this bullshit doesn't just happen in Hollywood. It's happening in fashion, to young girls. It's happened to me."
Fashion industry members accused of some form of sexual harassment or assault include Guess creative director Paul Marciano, photographers Terry Richardson, Mario Testino, Bruce Weber, Patrick Demarchelier, Greg Kadel and stylist Karl Templer.
Quinlivan joins a string of models who have come forward in recent months to reveal their stories. Just last week, Victoria's Secret model Bridget Malcolm added her voice to the chorus.
In January, model Ashley Graham shared her own story during an appearance on The View. Back in October, model Cameron Russell started the #MyJobShouldNotIncludeAbuse hashtag to encourage those in the fashion industry to speak up about abuse. Russell said she hopes "the industry can see the size and scope of this problem."
A month later, model Edie Campbell penned an op-ed on model abuse for Women's Wear Daily writing about how widespread the problem really is and listing out her idea of the origins of it. She ends her letter by placing the onus on agents to better protect models.
"This is a moment for us all to examine the behavior we have normalized. Fashion is a closed world, and fiercely self-protective," Campbell said. "But it is time to reassess, and it is time to start regulating ourselves."
And though changes are coming — Conde Nast, for instance, released new rules meant to help protect models from harassment — industry-wide outrage and willingness to meaningfully change remains stifled. Organizations like the Model Alliance, which have been outspoken about calling for stricter zero tolerance policies on any and all forms of harassment, go largely ignored by industry heavyweights with the power to enact change.
How many more women and men will need to come forward before there is substantive change in the fashion industry?