Gmail redesign introduces self-destructing emails, but do they actually get deleted?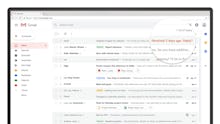 Google's Gmail redesign introduces a new look, snooze features and confidential mode, which includes the ability to send seemingly self-destructing emails. Don't be so quick to upload all those tax returns and social security numbers to the cloud, though.
On Wednesday, Google announced a major redesign to the Gmail app and desktop site. The email service now takes a few design cues from Google's other mail app, Inbox. Along with a fresh coat of paint, the new Gmail offers features we've seen in third-party apps like Boomerang, mainly the ability to receive a "nudge" to respond to a past email you may have missed. Arguably the most interesting feature, however, is the new confidential mode, allowing users to share self-destructing messages. Well, sort of.
Gmail's confidential mode is email that plays by Snapchat rules. Before sending your message, you can choose how long the sender is able to access the email and even protect the message via two-factor authentication. The receiver will not be able to forward the email, or copy and paste the contents of the message.
But normal emails can't be deleted after sent, so how is Google doing this?
Confidential mode messages sent Gmail-to-Gmail look like a normal email with an expiration date at the bottom. Sending to a non-Gmail account, however, exposes some of confidential mode's plumbing. Users of any other email service will receive a link to access your message. According to a spokesperson from Google, "Only the subject and link are sent via Simple Mail Transfer Protocol. You can revoke access to a message at any time or choose it to expire after a set amount of time (e.g.: one day, one week, five years)."
Confidential mode doesn't delete the email. Instead, Google revokes access from the recipient so they can't read what you sent them after a certain period of time. Your email will continue to live on in your account and on Google's cloud just like all your other emails. "The sender will still have access to the message content in their account unless they delete it similar to any other message," the Google spokesperson said. The search company clarified that they do not scan the content of Gmail message to serve personalized ads, a change they made in mid-2017.
While users can delete messages from their account, Google's privacy policy is unclear whether or not messages are immediately removed from Google's cloud when deleted on the user side.
Just like regular email, confidential mode messages are also permanent, in a way. While the recipient may not have access to them, you and Google do. Just like regular email, government can request the data within your inbox (the search company is transparent about the number of requests they receive each year). If information lives in digital form in your inbox, it's also susceptible to potentially being hacked.