Adam Rippon's 'Dancing With the Stars' song choice shows he's not done being unapologetically queer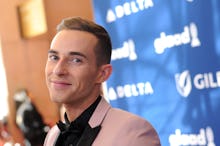 Good news, folks: Olympic ice skater Adam Rippon continues to be gay as heck.
On April 30, America's newest queer darling will grace our television screens once more as a competitor on the athlete-themed 26th season — yes, really — of ABC's Dancing With the Stars, that one show you forget exists until your parents bring it up.
If one thing became clear from his time at the 2018 Olympics, it's that Rippon loves being unapologetically, publicly queer, and is totally unwilling to compromise who he is for those who might not find his gayness palatable. Or, as comedian Guy Branum (and occasional Mic contributor) put it on Twitter: "The political importance of [Rippon] is that he never gives anyone the safety of just enjoying his beauty or artistry without being reminded he has sex with men in the butt. Bitch has rejected the situational closet, and he is a hero."
During the Olympics, Rippon was outspoken against Vice President Mike Pence, wore costumes on the ice that were a little bit "slutty," donned a bondage-inspired suit on the Oscars red carpet, openly stanned Reese Witherspoon and quoted RuPaul's Drag Race contestant Kennedy Davenport on his (very excellent) Twitter.
When he makes his debut on DWTS, Rippon will likely continue his habit of existing authentically, without condition. Per ABC, his first dance will be in the style of the cha-cha, which he'll perform with his dancing partner, a now-frequent star of Rippon's Instagram stories, 24-year-old dancer Jenna Johnson. But that's not the gay part.
The song he'll be doing the cha-cha to is — wait for it — RuPaul's "Sissy That Walk," a cheesy banger familiar to any queer man worth his salt. For the uninitiated, below you'll find the music video featuring Drag Race season 6 finalists Bianca Del Rio, Adore Delano, Darienne Lake and Courtney Act. For context, it's a song best listened to when one is strutting one's stuff down a runway.
The only thing that would make Rippon's appearance on DWTS any gayer is if he ditched his dancing partner for Artem Chigvintsev, the Russian dancer assigned to Olympic snowboarder Jamie Anderson. (I haven't fantasized about this at all, I swear. Sorry, Jenna. You seem great.)
Anyway, I for one am thrilled that Rippon is continuing to live his truth, especially on a show whose viewers historically skew toward the upper end of the age spectrum.
If you need an idea of what his DWTS debut might look like, here's an edited version of one of Rippon's skating performances, set to the RuPaul's Drag Race: All Stars 2 mix of "Read U Wrote U." You're welcome.