The bromance may be over as Emmanuel Macron takes veiled swipes at Trump in speech to Congress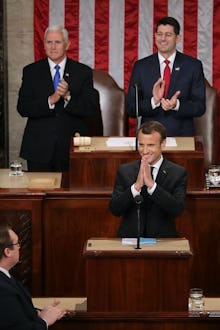 The bromance between President Donald Trump and Emmanuel Macron may be over, after the French president took masked swipes at Trump on Wednesday morning during a speech before a joint session of Congress.
In his address, Macron went after many of Trump's core political philosophies, including his push for nationalism and trade protectionism. Macron also took jabs at Trump's anti-climate change stance, and dinged the United States for exiting the historic Paris climate agreement, which Trump announced in June.
"You can play with fear and anger for a time, but they do not construct anything," Macron said, a not-so-subtle nod to Trump's use of fear and anger in his political rhetoric. "Anger only freezes and weakens us. Closing the door to the world will not stop the evolution of the world. It will not douse, but inflame, the fears of our citizens."
Macron went on to attack Trump's attempt to ratchet up a trade war, saying, "it will destroy jobs, increase prices and the middle class will have to pay for it." He even co-opted Trump's signature "Make America Great Again" slogan to nudge the U.S. to rejoin the Paris Agreement.
"We have to work together in order to make our planet great again," Macron said. "I am sure, one day, the United States will come back and join the Paris Agreement."
The comments came on the final day of Macron's three-day state visit, the first from a foreign leader of Trump's presidency. Trump has praised Macron during the trip, boasting about their friendship and physically showing his feelings toward Macron by air kissing his cheeks and dusting dandruff off Macron's shoulder — which Macron poked fun at during his speech. "I like him a lot," Trump said of Macron.
It's unclear how Trump will react to Macron's speech. But if the Democratic applause for the French leader's address is any indicator, he might not react favorably.
"By the end of Macron's speech calling for human rights, democracy, science and the rights of minorities, the GOP is going to go back to calling french fries 'freedom fries,'" Rep. Jamie Raskin (D-Md.) tweeted during Macron's speech.
"Macron seduced Trump and the GOP with all the hugs and kisses," Raskin added. His message is to ditch authoritarianism and the alt-right and stand up for strong democracy and human rights."