After latest blow to Trump administration in DACA ruling, immigrants are still "cautiously waiting"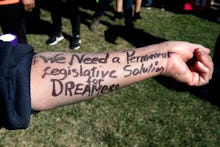 A federal judge on Tuesday called President Donald Trump's decision to end the Deferred Action for Childhood Arrivals program "arbitrary and capricious," and ruled that the administration must better explain the rollback, or reinstate the program within three months.
"Neither the meager legal reasoning nor the assessment of litigation risk provided by [the Department of Homeland Security] to support its rescission decision is sufficient to sustain termination of the DACA program," United States District Judge John D. Bates wrote in a 60-page decision.
The ruling, which is the latest to side against the Trump administration on DACA, opens the door to fully-restoring the program offering protections to undocumented immigrants who were brought to the U.S. as children. However, it also gives the administration 90 days to "better explain its view that DACA is unlawful."
That means DACA recipients and their allies remain in limbo for now, according to Sameera Hafiz, a senior policy strategist at the Immigrant Legal Resource Center.
"We're kind of on hold, cautiously waiting to see what happens," Hafiz said in a phone interview on Wednesday.
Attorney General Jeff Sessions announced in September 2017 that the administration was ending DACA, claiming that former President Barack Obama's signature immigration measure represented an "unconstitutional exercise of authority by the executive branch."
Trump, who campaigned as an immigration hardliner and has put forth several anti-immigration policies since taking office, gave Congress six months to come up with a new plan and promised the estimated 800,000 young people who benefitted from DACA that they had "nothing to worry about."
But DACA recipients quickly became a political football, with the president linking the program to his plans for a controversial border wall and restrictions on legal immigration. Since stepping into the Oval Office, the president and his allies undermined bipartisan efforts to pass a permanent solution on DACA, while Trump has been blaming the Democrats for the mess.
"Cannot believe how BADLY DACA recipients have been treated by the Democrats," Trump tweeted of the Capitol Hill negotiations. "Totally abandoned!"
Trump's six-month wind-down period was set to end in March, but the Supreme Court in late February declined to hear the administration's case, buying DACA recipients some time. Federal courts in Brooklyn and San Francisco had already ruled that the March 5 end date was arbitrary.
Bates is now the third federal court to rule against Trump on DACA. However, his decision went ever further than the earlier two. A George W. Bush appointee, Bates ruled not only that the protections for existing DACA recipients should stay in place, but that the administration must begin accepting new applications if it can't justify its September 2017 decision.
According to Hafiz, the uncertainty will remain for immigrants as long as Congress fails to enact a permanent solution.
"This decision really just once again is a reminder that we need a permanent legislative solution," Hafiz told Mic. "The need is still there and we hope that our legislators will listen to what the majority of America wants."
However, it seems unlikely that lawmakers will do much on the issue before November's midterm elections — something Sen. Dick Durbin (D-Ill.), a top Democrat and advocate for DACA recipients, acknowledged in February.
"This election, the election of new members to the House and Senate, will decide the fate of this issue," Durbin told NPR at the time.
For now, immigrants and their advocates remain "on hold," according to Hafiz.
The administration has vowed to "vigorously defend" its decision to cancel DACA, according to the New York Times — though it isn't clear what their legal argument will be.
Meanwhile, the NAACP, which brought one of the suits against Trump that Bates ruled on Tuesday, cheered the judge's decision as a "huge victory."
"Dr. King was right when he said that the arc of the moral universe is long, but it bends toward justice," NAACP president and CEO Derrick Johnson said in a statement Wednesday. "Our nation made a promise to protect undocumented young immigrant and this administration attempted to renege on that promise, but justice prevailed."