Kanye West has gone full MAGA — and Donald Trump thinks it's "very cool"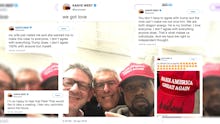 Kanye gonna Kanye.
Just a few short weeks after reactivating his Twitter, rapper Kanye West has tweeted about his "love" for President Donald Trump — and Trump thinks it's "very cool."
"You don't have to agree with Trump but the mob can't make me not love him," West said on Twitter. "We are both dragon energy. He is my brother. I love everyone. I don't agree with everything anyone does. That's what makes us individuals. And we have the right to independent thought."
"If your friend jumps off the bridge you don't have to do the same," he added. "Ye being Ye is a fight for you to be you. For people In my life the idea of Trump is pretty much a 50 50 split but I don't tell a Hillary supporter not to support Hillary. I love Hillary too."
In a series of follow-up tweets, West seemed to defend his love of Trump by advocating for "free thought." A short time later, West posted yet another tweet, one that was apparently very strongly encouraged by his wife, Kim Kardashian West.
"My wife just called me and she wanted me to make this clear to everyone," he wrote. "I don't agree with everything Trump does. I don't 100% agree with anyone but myself."
Kim's message didn't seem to stick. Later, West posted a selfie in which he was wearing a "Make America Great Again" hat. Also in the picture are Lucian Grainge, CEO of Universal Music, and Lyor Cohen, global head of music at YouTube and former head of Def Jam Recordings, according to CNET senior reporter Joan E. Solsman.
Trump responded to Kanye's initial tweet, saying, "Thank you Kanye, very cool," just a few minutes after Kanye posted the above selfie.
This series of tweets, though strange, is just the latest in a string of West's baffling, seemingly contradictory posts. Saturday, he posted about being a fan of Candace Owens, a black Trump supporter who has made transphobic comments and disapproves of Black Lives Matter, saying he "loves how [Owens] thinks."
West has deactivated and reactivated his Twitter several times. Most recently, he deactivated in May, a few months after he deleted many tweets in support of Trump. In November 2016, West was hospitalized for "exhaustion and sleep deprivation," according to Billboard.
This flurry of Twitter activity comes as West is preparing for the release of new music. He recently announced on Twitter that his eighth solo album is coming on June 1, and will be followed by a collaborative album with Kid Cudi on June 8, under the name Kids See Ghosts. West also said that he's producing a series of other albums, including Nas's next record, which will arrive on June 15.
April 25, 2018, 4:02 p.m.: This story has been updated.