'RuPaul's Drag Race' season 10, episode 6: Who is Ru supposed to send home when everyone is great?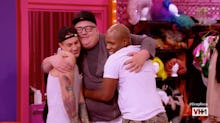 Hello, my Machiavellian little macadamia nuts. Welcome to Fundamental Reading, the weekly column where we chat about RuPaul's Drag Race.
This season's crop of queens has been especially strong by Drag Race standards, and episode six only made that even clearer. Despite the fact that nine queens remained at the beginning of the episode, none really seemed like obvious candidates to go home just yet, leaving a bottom three full of strong, talented competitors. By this point in the competition, there are usually still three or so queens who viewers know, in their gut, won't make it to the end.
In season nine, I don't think you'd have found many people who'd bet their lives that Farrah Moan or Aja — who went home one after the other around this same time — would take the crown. But this season, if you told me any of the top nine ended up in the final four, I probably wouldn't argue too hard. That's reflected in the numbers, too: At the beginning of this episode, nobody had yet won more than one main challenge — though that changed by the episode's end.
This week, wearing a hat so large it would make even Pharrell say, "That might be a bit much, my dude," RuPaul told the girls they'd have to design and moderate their very own RuPaul's DragCon panel discussions about the process of getting dragged up. (For the uninitiated, DragCon is like the Comic Con of Drag Race in both Los Angeles and New York City, where fans can meet their favorite queens, attend discussions, buy merch, etc.)
The girls sorted themselves into teams of three — and again, no team seemed to have any obviously weak links. Presenting on body shaping and padding — sorry, "proportionizing," as they insisted on calling it — were Kameron Michaels, Monét X Change and Eureka. Asia O'Hara, Monique Heart and Aquaria presented on makeup, and Miz Cracker, Blair St. Clair and The Vixen discussed wigs.
Just as an aside before we move on: I simply can't help but bring up a delightful bit of editing in this segment of the episode. When the girls were all chatting before Ru entered the workroom, Monique Heart let out one of her trademark, vaguely dopey, deep "hee-hee-hee" laughs — it's something the other girls love to poke fun at. Miz Cracker remarked that the show's editors should use Monique's laugh when the show throws to commercial instead of Ru's iconic, borderline maniacal cackle.
A few scenes later, when just enough time has passed for the audience to forget about Cracker's offhand comment, the show broke for commercial. Instead of RuPaul's laugh, we heard a faint, deep, "hee-hee-hee." It was Monique. The editors made Cracker's dreams come true. I screamed. It was exactly the kind of goofy camp Drag Race is best at.
Before the girls presented their panels, Asia had a brief cutaway where she casted doubt on whether Team Body would be successful. Eureka has a tendency to be overbearingly loud and the center of attention, Kameron is notoriously quiet and Monét had already been in the bottom two twice. But that bit of editing turned out to be nothing more than a red herring, because they all ended up in the top three. It's worth noting how much this illustrated the strength of this season's queens: The group with the deck seemingly stacked highest against them was actually the strongest of the bunch in the end.
In particular, Eureka's poignant answer to a fan's question about the importance of drag in 2018 set her apart from Monét and Kameron. That, along with her important role as Team Body's panel moderator, led Ru to condragulate Eureka with a victory in the main challenge. That was her second consecutive win, making Eureka the first queen of the season to win two challenges.
Team Face — Asia, Monique and Aquaria — did perfectly fine in their presentation on makeup, but Asia and Aquaria weren't quite as strong as Monique. Aquaria and Asia stepped on each other's toes a bit, too, as they gave simultaneous tutorials rather than giving each one room to breathe. But they weren't as messy as Team Hair, so Ru deemed them safe.
Which brings us to Team Hair. Here, the shadiness and snark of Miz Cracker and The Vixen were totally unbalanced with the sugary sweetness of Blair as they tried — and failed — to teach their audience about hair care. Cracker and The Vixen were too loud, talked over each other and just came off as mean instead of clever. Those of us watching at home, who were more familiar with the group's dynamics, understood it was playful — but to the live studio audience, it just seemed like they wanted to kill each other. Their presentation was by no means irredeemable, but it was the weakest of the bunch.
But their individual performances weren't so easy to rank, forcing the judges to focus on relatively minute details to suss out the bottom two. In his critiques, judge Ross Mathews noted that Blair usually came off a little too sweet, implying that maybe she lacked depth or was unwilling to be as edgy as her competitors. This led Blair to open up about why she usually has a cheery demeanor: Blair said her "first sexual experience was being raped at a college party," so she uses positivity as a way to try and separate herself from that incident. (In Untucked after the main show, Blair expanded on how she's working to recover from that trauma. I recommend you check it out.)
Seeing Cracker, Blair and The Vixen up for elimination was particularly heartbreaking — especially after Blair's heartbreaking admission — but Ru's choice to pit Blair and The Vixen against each other in the final lip sync made the most sense. The Vixen, despite being a strong competitor on — but more so off — the stage, hasn't had looks that are particularly polished. And Blair, though she always looks on point, is a little under-baked when it comes to her onstage persona. Miz Cracker has been a fierce competitor since the season's start, and it simply didn't make sense to put her in the bottom.
In a lip sync to Diana Ross' "I'm Coming Out," Blair couldn't hold the spotlight when she was next to The Vixen. Ru agreed, and sent Blair home. As always, Mic will have an exit interview with the eliminated queen. Stay tuned for our chat with Blair.
Before we close out for the week, here's a quick recap of how everyone did on the "Hat's Incredible" runway.
Kameron Michaels
Kameron had probably the best engineered headgear of the week, in the form of concentric, metallic circles that freely orbited around her head as she strutted down the runway. Guest judge Emily Gordon — cowriter of The Big Sick and wife of fellow guest judge Kumail Nanjiani — rightly remarked that the rest of her outfit wasn't as strong.
Judges' final ranking: High.
Monét X Change
Monét was serving a queer Sunday church lewk this week, one I hope she actually wears to the drag church services she mentioned earlier in the season.
This wasn't the strongest outfit of the week, but it was polished, well-fitting and enough to keep her safe.
Judges' final ranking: High.
Eureka O'Hara
Eureka always looks her best when she channels her inner Disney villain, and this look did exactly that. I think she should've swapped her black cape for something more reminiscent of a trenchcoat, to make her look even more like Cruella De Vil and a little less like a superhero.
Judges' final ranking: Winner.
Aquaria
Aquaria's magician's bunny-inspired look this week was a bit more masculine than usual, but with plenty of that surreal energy she's known for. Balancing the hat atop one of her ears was particularly clever, as though the magician's teeny, tiny bunny had suddenly become human-sized inside of it.
Judges' final ranking: Safe.
Monique Heart
Monique pulled this look together in a matter of a few hours in the workroom — and for that, I applaud her. This look definitely wasn't the strongest of the week, but I will say I'm getting mighty tired of how much the judges seem to be overlooking Monique overall.
As I've said multiple times, it's likely a product of how strong her competitors are, but she's a force to be reckoned with — and it's about time the judges recognize that, America. As Monique said, she came to the competition with "glitter and Jesus, and [she's] making it work."
Judges' final ranking: Safe.
Asia O'Hara
The judges were absolutely taken with this dandelion-inspired look, and it's hard to fight them on it. Her headgear was striking at first glance — but it becomes a little less enchanting when you realize it was literally a repurposed IKEA light fixture.
Judges' final ranking: Safe.
Miz Cracker
Miz Cracker also opted for an Easter Sunday look, but hers was much whiter than Monét's, in more ways than one. Cracker's floor-length lace gown was perfectly cinched around the waist, and her hat — covered in blonde hair — added that touch of the absurd that Cracker is known for.
Judges' final ranking: Bottom three.
Blair St Clair
Blair emerged on the runway looking like a high-class dame at the Kentucky Derby, mixed with Glinda the Good Witch. Blair made a really smart choice to keep the dress short, leaving her legs bare. Otherwise, this would've swallowed her up.
Judges' final ranking: Bottom two.
The Vixen
The Vixen was the only queen to go all out with the hat theme, creating a dress entirely made of hats that look plucked straight from the closet of Meredith Blake. Unfortunately, the craftsmanship was lacking, leaving us with a dress that just looked shapeless and sloppy.
Judges' final ranking: Bottom two.