Ronny Jackson withdraws Veterans Affairs nomination after damaging allegations surface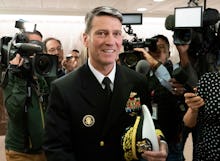 Welcome to Mic's daily read on Donald Trump's America. Want to receive this as a daily email in your inbox? Subscribe here.
Good morning from Emily Singer at Mic.
Here's what's happening in Trump's America:
• Ronny Jackson withdrew his nomination to head the Department of Veterans Affairs.
About last night: Ronny Jackson withdraws
Ronny Jackson, Trump's pick to head the Department of Veterans Affairs, withdrew his nomination after yet more unflattering news surfaced Wednesday evening about his professional conduct.
In a statement announcing his withdrawal, Jackson denied that any of the allegations against him were true, but he said they have become a "distraction."
"The allegations against me are completely false and fabricated," Jackson said in a statement. "Unfortunately, because of how Washington works, these false allegations have become a distraction for the president and the important issue we must be addressing — how we give the best care to our nation's heroes."
Sen. Jon Tester (D-Mont.), ranking member of the Senate Veterans Affairs Committee, released a long list of allegations Wednesday night that Jackson's former colleagues levied against him, including that Jackson didn't account for controlled substances, such as the opioid painkiller Percocet. Others who worked for Jackson described him as "toxic," "abusive," "volatile" and "the worst officer I have ever served with."
Jackson is also accused of wrecking a government vehicle while under the influence — an allegation Jackson denied.
Trump attacked Tester for bringing up the allegations against Jackson.
"There's no proof of this," Trump said in an interview on Fox and Friends Thursday morning. "I think Jon Tester has to have a big price to pay in Montana."
The White House on Wednesday seemed to be sticking by Jackson.
"Dr. Jackson's record as a White House physician has been impeccable," White House press secretary Sarah Huckabee Sanders said at the daily press briefing Wednesday. "In fact, because Dr. Jackson has worked within arm's reach of three presidents, he has received more vetting than most nominees."
But the allegations against Jackson — especially that he mishandled opioids in the midst of the opioid crisis raging across the country — derailed his nomination.
In the Fox and Friends interview, Trump refused to say who he will nominate now that Jackson has withdrawn.
Today in Trump's America: Pruitt gets grilled by Congress
EPA administrator Scott Pruitt will face fire from not one but two House committees on Wednesday, setting off a day-long grilling session that could leave Pruitt bruised and battered.
Pruitt will be forced to defend his spending at the EPA, including on private jet travel, first-class airfare, security spending and other expenditures on his office, including installing a $43,000 soundproof phone booth.
He'll also face questions about a potentially unethical living arrangement he had, in which he rented out a room from the wife of a lobbyist who lobbies on issues Pruitt has regulatory authority over. Not only was the fact that Pruitt rented from the lobbyist's wife questionable, but the cost of the rental — just $50 a night — also looks to be below market value in an expensive city such as Washington.
The hearings come as the White House has stopped vigorously defending Pruitt.
Sanders on Wednesday, when asked how Pruitt's behavior "is in keeping with the values of draining the swamp" simply said that the White House is "evaluating these concerns."
"We expect the EPA administrator to answer for them, and we'll keep you posted," Sanders said.
The first hearing begins at 10 a.m. Eastern before the House Energy and Commerce Subcommittee on Environment. At 2 p.m. Eastern, Pruitt will then face the House Appropriations Subcommittee on the Interior, Environment and Related Agencies.
Capitol Hill happenings: Senate to confirm Pompeo, German ambassador
Pompeo is expected to cruise to confirmation as secretary of state Thursday, after multiple Democratic senators announced they will vote for Pompeo to be the country's chief diplomat.
His confirmation comes after some drama earlier this week, when it looked like Pompeo might not receive a favorable recommendation from the Senate Foreign Relations Committee. Pompeo ended up receiving a favorable recommendation, and his nomination battle is almost over.
The Senate is also set to confirm Richard Grenell to be ambassador to Germany. Grenell's nomination has been held up for months. But he's set to be confirmed Thursday, one day before German Chancellor Angela Merkel is set to travel to the U.S. to meet with Trump.
And the rest…
Michael Cohen: Trump's personal lawyer announced Wednesday that he will plead the Fifth Amendment in a lawsuit filed against him by porn actress Stormy Daniels. Cohen will plead the Fifth in order to prevent himself from self-incrimination in the federal investigation against him.
Travel ban: The Supreme Court on Wednesday heard arguments on Trump's travel ban. The conservative-majority court looked like it may side with Trump on the legality of the ban.
Florida voting rights: A federal court Wednesday night said that Florida officials, including GOP Gov. Rick Scott, do not have to immediately restore voting rights to former felons. A lower court had ordered Scott to create a new system to allow former felons to vote by Thursday. However, an appeals court said Scott could delay creating a new system.