Trump appears agitated in 'Fox & Friends' interview, attacks Comey and the Russia probe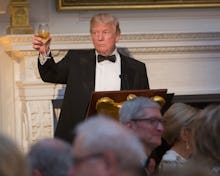 President Donald Trump on Thursday morning gave a freewheeling interview to the morning news program Fox & Friends in which he defended himself against special counsel Robert Mueller's Russia probe, attacked former FBI Director James Comey and even relitigated his 2016 presidential victory for what feels like the millionth time.
He also admitted that his personal attorney, Michael Cohen, represented him in the Stormy Daniels case — a significant about-face from prior statements.
Trump was clearly agitated in the call-in interview, which came right after Veterans Affairs nominee Ronny Jackson withdrew his name from consideration after damaging allegations surfaced about his professional conduct. And his agitation showed, as Trump went on an extended rant about how unfairly he felt his personal lawyer, Michael Cohen, was treated by the FBI — which raided Cohen's personal residence, hotel room and office as part of a federal probe.
After decrying the treatment of Cohen, Trump then said that Cohen only handled "a tiny, tiny little fraction" of his legal work, but admitted that Cohen represented him "with this crazy Stormy Daniels deal."
That statement could be consequential, as Trump is seeking to allow a federal judge to let him review any possibly privileged documents that were seized from Cohen. Similarly, Trump has denied knowing that Cohen helped facilitate a $130,000 payoff to Daniels — who claims to have had an affair with Trump — but then said in the interview that Cohen did represent him in the Daniels case, in which Cohen allegedly paid Daniels hush money.
At points, even the Fox & Friends hosts could not hold back their frustration and shock at what Trump was saying.
When Trump attacked the Department of Justice, host Steve Doocey launched into a rare push back.
"It's your Justice Department," Doocey said incredulously. "Mr. President, Mr. President, you're the Republican in charge. You've got a Republican running it."
Later, when Trump said he didn't watch cable TV channels such as CNN and MSNBC but then admitted he watched a CNN town hall with Comey on Wednesday night, a Fox & Friends host tried to give Trump some advice to try and calm the angry president.
"I'm not your doctor, but I recommend you don't watch them," the host said, referring to the cable networks.
The interview lasted about 30 minutes. And it was the Fox & Friends hosts who ultimately ended the interview — an almost unheard of turn of events, as reporters rarely get the chance to have freewheeling interviews with sitting presidents.
"We're running out of time," Doocey said to Trump before asking him a final question.