Trump defends his taunting North Korea rhetoric, says weaker leaders would have launched nuclear war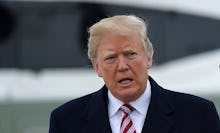 President Donald Trump on Thursday defended his past taunts against Kim Jong Un, suggesting during a bizarre Fox & Friends interview that his reckless rhetoric on North Korea may have prevented a nuclear war.
"It was very, very nasty with Little Rocket Man and the buttons and, you know, 'My button's bigger' — you know, everybody said, 'This guy's gonna get us into a nuclear war,'" Trump said in a phone interview on Fox News. "Let me tell you: The nuclear war would have happened if you had weak people."
Trump spent more than a year bashing the North Korean dictator on Twitter and in public statements, frequently mocking him as "Little Rocket Man" and once threatening to "totally destroy" North Korea if Kim continued his nuclear provocations.
In the now-infamous episode Trump alluded to on Fox & Friends Thursday morning, he tweeted that "someone from [Kim's] depleted and food starved regime" should inform him that his nuclear button "is a much bigger & more powerful one than his, and my Button works!"
The brinkmanship between the two leaders raised fears of a nuclear conflict, but a strong diplomatic push by South Korea throughout 2018 paved the way for a potential meeting between Trump and Kim, which could be a major step toward de-escalating tensions on the peninsula.
Mike Pompeo, Trump's nominee for secretary of state, already met with Kim in preparation for the possible meeting between the president and the North Korean leader.
Trump told Fox News on Thursday that Pompeo was able to "say hello" to Kim during his visit to North Korea and that the two spoke for more than an hour.
He also said that while he believes the administration is "doing very well" on North Korea, he does not know what will come out of the potential summit with Kim — or if it will even occur.
"It could be that I walk out quickly, with respect, but it could be. It could be that the meeting doesn't even take place," Trump said. "Who knows?"