Adam Grant has 3 lessons for any young person who wants to be successful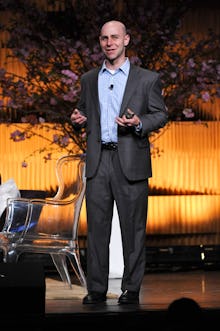 Unfortunately, this isn't a get-rich-quick scheme. If your goal is to truly be successful, Adam Grant wants you to put in the work.
"I've come to think that work-life balance is mostly a myth," Grant, a Wharton professor and organizational psychologist, told Mic. "It's not to say you have to be a workaholic in order to be successful, although the evidence is strong that one of the ways that people become successful is they just work more hours, or they work with more intense focus than their peers."
In his exclusive video op-ed for Mic, Grant, host of the TED podcast WorkLife, reveals three lessons for any young person who wants to get ahead.
"I work with a lot of millennials who are very excited about getting ahead, right away, as quickly as possible. — ideally yesterday, if not a week or two ago," Grant said.
The WorkLife host added, "We hear Boomers and Gen Xers complain about this all the time: 'Oh, millennials want to be promoted on day two of their job and they have no sense of gratitude and loyalty, and their timelines are unrealistic.' And if you look at the data, this is not mostly a generation effect. It's actually mostly an age effect."
"Boomers and Gen Xers were just as entitled as any other generation was when they were 23 years old, too," he said.
Watch Adam Grant's video op-ed for Mic above.