Janelle Monáe comes out as queer in 'Rolling Stone' cover story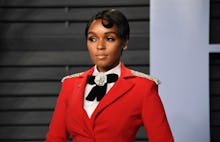 Janelle Monáe's new album, Dirty Computer, comes out Friday — but before she unleashes it upon the world, she had to clear something up. In an interview with Rolling Stone published Thursday morning, the 32-year-old singer came out as queer.
"Being a queer black woman in America, someone who has been in relationships with both men and women — I consider myself to be a free-ass motherfucker," Monáe said.
Monáe's sexuality has been a subject of discussion for some time, ever since she branded herself as a somewhat androgynous, nearly always tuxedo-ed performer with a perfectly coiffed pompadour. This speculation only intensified with the music videos released in the lead-up to Dirty Computer, most notably "Pynk" and "Make Me Feel," in which actress Tessa Thompson appears as a recurring love interest. (Sorry, vultures: Monáe still won't say whether the two are actually a couple IRL.)
Monáe doesn't seem to have settled on exactly one label for her sexuality. She told Rolling Stone she initially identified as bisexual, "but then later I read about pansexuality and was like, 'Oh, these are things that I identify with too.' I'm open to learning more about who I am."
Coming out as queer is just the latest effort by Monáe to perform as a more authentic version of herself. With her previous music releases, like 2007's Metropolis EP, Monáe performed as her android alter-ego Cindi Mayweather — but on Dirty Computer, she's putting herself front and center.
The new album, Monáe said — which will be accompanied by a visual "emotion picture" airing Thursday — is dedicated to those who feel ostracized.
"I want young girls, young boys, nonbinary, gay, straight, queer people who are having a hard time dealing with their sexuality, dealing with feeling ostracized or bullied for just being their unique selves, to know that I see you," she said, per Rolling Stone. "This album is for you. Be proud."