Pruitt says attacks on his spending, living arrangement are an effort to "derail" Trump's agenda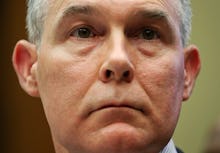 Environmental Protection Agency administrator Scott Pruitt was grilled by lawmakers on Capitol Hill on Thursday, spending hours before two House committees to defend himself against allegations that he abused taxpayer funds and had an unethical living arrangement in Washington, D.C.
A cloud of scandal has hung over Pruitt's head for weeks after reports surfaced about his first-class travel arrangements, a $43,000 phone booth he had installed in his office, and the fact that two of his closest staffers received large raises despite the objection of the White House.
Pruitt, however, said the attacks against him were part of a conspiracy to "derail" President Donald Trump's agenda.
"Let's have no illusions about what's really going on here," Pruitt said in the first hearing Thursday morning. "Those who have attacked the EPA and attacked me are doing so because they want to attack and derail the president's agenda and undermine this administration's priorities. I'm simply not going to let that happen."
House Democrats on the two committees that grilled Pruitt did not accept this explanation.
Rep. Frank Pallone (D-N.J.), ranking member on the House Energy and Commerce Committee, told Pruitt to his face that he thinks Pruitt should be fired.
"I think your actions are an embarrassment to President Trump and distract from the EPA's ability to effectively carry out the president's mission," Pallone told Pruitt. "And if I were the president I wouldn't want your help. I'd get rid of you."
In another exchange with Rep. Paul Tonko (D-N.Y.), Pruitt basically confirmed that he lied in a Fox News interview about the pay raises his two close aides received.
In an interview with Fox's Ed Henry earlier this month, Pruitt said he didn't know that his aides were getting a raise.
But after questioning from Tonko, Pruitt confirmed that he did know about the raises, but didn't know the amount of a pay bump those aides would be receiving.
"I was not aware of the amount," Pruitt told Tonko.
The White House has stopped rigorously defending Pruitt, with White House press secretary Sarah Huckabee Sanders telling reporters on Wednesday that Trump would be watching Pruitt's testimony before determining his fate.
"We expect the EPA administrator to answer for them, and we'll keep you posted," Sanders said Wednesday of the allegations against Pruitt.
It's unclear whether Pruitt's testimony will satisfy the White House.
But Republican House members on the committees grilling Pruitt were quick to defend the EPA head.
In one amazing exchange, Rep. David McKinley (R-W.Va.) accused Democrats of engaging in "McCarthyism" with their attacks on Pruitt's spending.
"To the public, I think this has been a lot of classic display of innuendo and McCarthyism that were seeing too often here in Washington that I think unfortunately works against civility and respect for people in public office," he said. "Some can't resist the limelight, the opportunity to grandstand."