How to book an entire vacation with cryptocurrency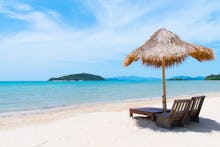 When bitcoin surged above $19,000 per coin last December, newly minted millionaires spent their windfall on luxuries like vacation homes and sports cars. Lamborghini and Overstock are among the biggest companies that take bitcoin, along with travel companies like CheapAir and Virgin Galactic. This had us wondering — could you use cryptocurrency to pay for an actual vacation?
Until today, Expedia was one of the best-known travel sites that accepted cryptocurrency as payment. But it announced Friday that it would no longer accept cryptocurrency starting May 10. Even still, a number of vacation sites, hotels and even airlines are still trying to make a crypto-funded adventure a reality.
Bitcoin is the most widely accepted form of cryptocurrency, but there are a few services that will let you make your travel plans with other cryptocurrencies like dogecoin and litecoin, and even more that will allow you to turn that cryptocurrency into gift cards for flights, gas, hotels and even Uber credit for your journey.
Of course, there are risks to consider (and experts say it's not the smartest way to book — more on that later), but cryptocurrency has become mainstream enough that it's possible to use it as a tool for travel. If you've got cryptocurrency to burn, here's how to do it.
How using cryptocurrency to book travel works
Most of the travel companies that accept cryptocurrency don't accept actual bitcoin. Instead, they process transactions through cryptocurrency trading platforms, most commonly Coinbase. That means that while you're technically depleting your balance to make that purchase, on the travel site's side, they're actually getting paid in regular cash. Since that cryptocurrency is technically an investment in the eyes of the government, you're also paying taxes on those funds, even though you're just using them to buy something else.
There are a number of reasons that the cryptocurrency is converted to cash first, but the largest is that that the cryptocurrency market is pretty volatile; a bitcoin might be worth $16,000 in the morning and $12,000 in the afternoon. No two bitcoin exchanges are typically trading bitcoin for the same price in a given moment. Determining the value of your bitcoin the second you decide to bite the bullet on that roundtrip ticket to Paris requires expertise, far more than your typical airline or hotel can handle, which is why it relies on a trading platform to figure it out for them.
When you buy that ticket, you're essentially cashing your bitcoin in for U.S. dollars, and then the trading platform is giving the airline regular currency. So, yes, you're "paying in bitcoin," but also, no, you're not.
To make the purchase, you'll follow the same steps that you would if you were making a purchase using your credit card. When you get to the payment section, you'll select "bitcoin" or your supported cryptocurrency of choice. When you do, the site will direct you to a bitcoin trading platform like Coinbase where you'll log in and complete your transaction. If you've ever made a purchase online using PayPal, it's the exact same experience, except you're dealing with cryptocurrency rather than cash.
Travel companies that accept cryptocurrency
If you want to pay for your travels with bitcoin, you have a number of options to do that. Here are a few of the big ones:
CheapAir
CheapAir.com was the first online travel agency to accept Bitcoin back in 2013. With it, you can purchase flights on most major airlines to virtually any destination. The site currency accepts bitcoin, bitcoin cash, litecoin and dash.
BTCTrip
BTCTrip describes itself as "the travel agency for the cryptocurrency community." The service allows customers to book flights and hotels using cryptocurrency, and unlike most other sites, accepts dogecoin and litecoin as well as bitcoin for payments.
While the majority of sites use Coinbase, BTC uses Bitstamp to handle its transactions. When you do a search on the site, the price for your ticket is also shown in bitcoin rather than cash, so you immediately have a decent idea what you're paying for it in bitcoin. If you want to figure out what the equivalent is in dollars, you'll have to do the math yourself.
Virgin Galactic
If you've got your eyes set on an intergalactic vacation then bitcoin can help you get there. Virgin Galactic accepts bitcoin as a form of payment on its commercial passenger space flights. The first one of those flights is allegedly supposed to take off by the end of this year, if you have a quarter of a million dollars in cryptocurrency to spare.
eGifter and Gyft
eGifter is technically a gift card site that accepts bitcoin, but you can use the site to buy gift cards for a number of popular airlines that can later be turned into plane tickets. Participating airlines include Delta, American Airlines and Southwest. Gyft works in a similar way and allows you to use bitcoin to purchase gift cards to Hotels.com, which can be used to book a hotel room almost anywhere in the world.
CoinFuel
CoinFuel is another gift card site that can come in handy, particularly if you're planning a road trip. The site allows you to purchase gift cards for a number of different gas stations such as Shell and BP and also accepts bitcoin to purchase credits for ride-sharing app Uber.
Using bitcoin on the ground
Once you land at your dream destination, you can find stores that will accept bitcoin using Coinmap. The map has over 12,000 retail locations listed around the world, with the bulk of those in Europe and the U.S.
The risks of booking with cryptocurrency
Given how unstable most cryptocurrencies are, you'll never know quite how much you're paying for a ticket until the transaction is complete. For instance, If bitcoin is at $10,000 when you start ticket shopping, you might think that your $2,000 ticket to Paris is going to cost one-fifth of a bitcoin to buy. If the market takes a dip briefly while you make that purchase to less than $10,000, then you'll be paying more than you bargained for to get the ticket, and missing the opportunity to recoup that lost cash when the market recovers a few hours (or, frankly, minutes) later.
At this point, the value of cryptocurrency can change a lot in just a few minutes, which means a big difference in terms of how much you're paying from the moment you start searching for a flight to the point where you finish booking.
Making a purchase using cryptocurrency also typically involves transaction fees that you won't see if you make the same purchase using your credit card or cash. You'll also miss out on perks like trip protection, which might come for free with your credit card. There are plenty of downsides for seemingly few benefits. This is one of the reasons that Expedia, which originally signed on to accept cryptocurrency in late 2017, has since decided to end that support. "Currently, we do not feel that we are able to offer the best experience for those using bitcoin, but will continue to evaluate various options in order to offer travelers flexible payment solutions," an Expedia spokesperson said in an email.
If you're bitcoin-rich, cash-poor and absolutely have to use your bitcoin balance to make a purchase, then consider cashing out the amount you need and using real dollars to make the purchase rather than doing it directly in cryptocurrency.
Your best bet when shopping for travel is still to use a rewards credit card where you're earning cash back or airline miles for that big purchase. If you're able to pay that credit card balance off at the end of the month, then you'll be making money in rewards with that big travel purchase for an extra bonus, as opposed to losing money in transaction fees and market fluctuations.
Sign up for the Payoff — your weekly crash course on how to live your best financial life.