Caitlin FitzGerald worked hard to leave restaurants behind — and now she's playing a waitress on TV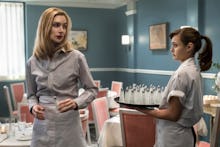 Caitlin FitzGerald first landed in the food industry as a teenager, when she worked at a cafe and for a catering company while in high school. Throughout college and for a few years after, she worked as a hostess and waitress in New York City.
Ten years later, she's back in the restaurant world, this time playing Simone in the Starz adaptation of Stephanie Danler's novel Sweetbitter. The TV show debuted Wednesday at the Tribeca Film Festival and will premiere on the small screen May 6.
The novel, which is a fictionalized version of Danler's experience working at restaurants like Union Square Cafe in New York, made waves in the restaurant industry when it was published in 2016.
"I had the bizarre experience of reading a book that felt like a much better version of a diary from when I graduated college and was waiting tables," FitzGerald said in a phone interview.
FitzGerald felt a connection to both the main character of Tess — a 22-year-old who has just moved to New York and ends up working at one of the city's best restaurants — and Simone, a beautiful senior server Tess idolizes.
"Tess reminded me of who I was when I was waiting tables in New York and going through all kinds of growing up," FitzGerald said. "And Simone feels like the woman I wanted to be back then, and in many ways still aspire to be."
The actress recalled the ups and downs of working in the industry.
"We were young and foolish, and I worked at a lot of places where there was a tremendous amount of drinking after the shift," FitzGerald said. "There's a camaraderie that [Danler] captures beautifully. Restaurants are strange families that form."
One lesson FitzGerald took from the restaurant industry? "Learning how to work and work hard," she said. "I worked doubly hard to become an actor, because I didn't want to work in restaurants forever. There are so many great people who love it and are exceptional at it, but it was not for me."
For FitzGerald, portraying Simone is a "full-circle moment."
"We had a few days of restaurant training at the beginning of shooting," she said. "I was finding myself at the end of these days feeling really dark and couldn't figure out why, until it occurred to me — I'm back in a restaurant with my wine key and order pad. It was a strange experience."
While certain waitress skills might have come more easily to FitzGerald, she did need a crash course in wine, which happened with author Danler over drinks at Terroir Tribeca.
"I was astounded to discover that the palate is something you can train," FitzGerald said. "I thought you were born being able to taste the difference in wine or not, but I'm learning it's a refined skill and art form." FitzGerald also admitted that a restaurant wine list "used to be completely incomprehensible" to her, but added that she's learning slowly. "I have scratched the tiniest bit of the surface," she said. "I can at least say I prefer a dryer white wine."
Both the book and the show take place in 2006, when FitzGerald graduated from college. "It was a different time in the New York restaurant world than it is now," she said. But at a moment when some of the biggest players in the industry have been accused of sexual assault, it's hard not to consider the show — and its blurred workplace relationships — in the context of the #MeToo movement.
FitzGerald said the sexual misconduct in restaurants wasn't specifically discussed among the cast. "I think restaurants, not unlike the film and television industry, are arenas where lines get blurred," she added. "But I don't know that it's specifically different than any other industry in the world."
As an actress, she said she's personally felt a change in Hollywood. "I feel more empowered to say no to things I don't like or don't jive," FitzGerald said. "We now need to see real results in terms of how many women are actually in power and positions of creatorship in the industry."
She's also worked on several projects created by women, including Sweetbitter, Unreal and Masters of Sex. "I feel incredibly privileged to have these experiences," FitzGerald said. "Having worked with so many women, I can say we should have a whole lot more."