Movement Must-Reads: It's about time we had a national memorial to honor people killed in lynchings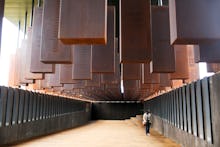 Welcome to Mic's roundup on The Movement. Want to receive this as a weekly email in your inbox? Subscribe here.
Hey y'all,
It's Erin Evans, Mic's editorial director of culture, subbing in for Zak, who is at the opening of the national lynching memorial in Montgomery, Alabama, today. He'll have a nice long read for you soon, so keep an eye on Mic for when that goes live. In the meantime, here's what we once wrote about the memorial and why it's a long overdue tribute to victims of America's racist past in this dispatch from Aaron Morrison.
In case you're not already tired of Kanye West this week after his dayslong Twitter rant, we have several pieces that dig into the rapper's political beliefs, who's unfollowed him on Twitter (lots of celebs, reportedly) and his big display of utter desperation.
Now, if you want to read anything other than Kanye, we've got you covered there, too. Read on for more.
From Mic:
A handful of pieces from our culture desk on the saga that is Kanye: Early in the week, Michael Arceneaux basically reminded us of that good ol' Maya Angelou quote: When someone shows you who you are, believe them. Natelegé Whaley talked to the founder of DoesFollow, which tracks who unfollows who on social media. According to the site, a handful of celebs have unfollowed 'Ye this week. And Max Cea makes it as plain as a slice of white bread: Kanye is desperate.
Bill Cosby was found guilty Thursday of all three counts of aggravated indecent assault. Here, Natelegé will catch you up on everything that happened in the last week.
Candice Frederick has seen the first few episodes of the second season of Dear White People, and she unpacks how beautiful it is to see layered portrayals of black women on TV.
On 4/20, Aaron Morrison posed the question: What if we didn't jail people for marijuana? It's a deeply researched look at one of America's most pressing issues.
And Chauncey Alcorn went to the Tribeca Film Festival to see Rest in Power: The Trayvon Martin Story. In it, he says, the docuseries makes it clear that George Zimmerman isn't the only villain in the death of the Florida teenager.
From elsewhere:
Because I refuse to watch Netflix's documentary on Rachel Dolezal, here's a piece on Vulture by Chris Lee that sums it up nicely for you.
Tatiana Walk-Morris at Cosmopolitan digs into TSA's continued search of black women's hair — despite the fact that the pat-downs were reportedly supposed to stop in 2015.
Ken Belson and Mark Leibovich at the New York Times take you inside a recent NFL meeting to discuss national anthem protests.
Until next week,