Trump digs a hole for himself and Cohen in comments on his longtime lawyer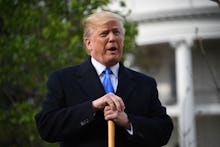 President Donald Trump's seemingly off-the-cuff remarks about Michael Cohen Thursday morning quickly came back to bite him, with prosecutors using statements from his Fox News interview against the attorney later in the day.
Speaking by phone to Fox & Friends, the president described Cohen as a "businessman" who handled a "tiny, tiny little fraction" of his legal work — including, he acknowledged, "this crazy Stormy Daniels deal."
"He's a good guy," Trump said of Cohen. "But I'm not involved."
It appeared to be an attempt by the president to distance himself from his longtime attorney and fixer — but, in doing so, he likely created more legal headaches for the both of them.
"I do not believe there is any way you can reconcile what the president said on Fox & Friends with his statements on Air Force One with the prior statements of Michael Cohen," Michael Avenatti, who is representing adult film actress Stormy Daniels, said in comments to reporters outside Cohen's court hearing Thursday afternoon. "That is a significant, serious problem for Michael Cohen and the president."
Trump has been seeking to prevent the review of materials seized in an FBI raid on Cohen earlier this month, citing attorney-client privilege. But federal prosecutors on Thursday argued that Trump's characterization of Cohen in his Fox News interview demonstrated that most of the seized documents are unlikely to be protected by privilege.
"These statements by two of Cohen's three identified clients suggest that the seized materials are unlikely to contain voluminous privileged documents, further supporting the importance of efficiency here," prosecutors wrote Thursday in a letter to United States District Court Judge Kimba Wood, referring to comments made by Trump and Fox News host Sean Hannity, who was recently revealed to be one of Cohen's three clients.
In the hearing Thursday, during which Cohen pleaded the fifth, Wood appointed federal judge Barbara Jones special master in the case to review the seized materials and determine what prosecutors will be allowed to use in their criminal investigation into the Trump attorney.
So while the play didn't quite work for prosecutors, it did highlight the potential problems the president's often erratic public statements can cause for him.
The Cohen probe could be more dangerous to Trump than special counsel Robert Mueller's Russia investigation, as the attorney has reportedly been deeply involved in the president's most delicate personal matters — notably, his alleged affair in 2006 with Daniels, who is suing Trump to get out of a 2016 nondisclosure agreement.
Cohen has claimed that he paid $130,000 of hush money to the adult film star ahead of the 2016 election out of his own pocket, without the knowledge of the Trump Organization and the Trump campaign.
The payment may be in violation of campaign finance laws, according to some analysts.
Trump, who has largely remained silent on the allegations, said earlier this month aboard Air Force One that he was not aware of Cohen's payout and told reporters to "ask Michael" about it.
But during his call-in interview with Fox & Friends Thursday, he acknowledged for the first time that Cohen represents him in the matter — an apparent about-face from his earlier remarks that Avenatti, Daniels' attorney, suggested could have implications on the case.
"Mr. Trump and Mr. Cohen previously represented to the American people that Mr. Cohen acted on his own and Mr. Trump knew nothing about the agreement with my client, the $130,000 payment, etc.," Avenatti tweeted Thursday morning. "As I predicted, that has now been shown to be completely false."
The appointment of a special master is being billed as a win for Cohen, as it blocks prosecutors from accessing the material before it is independently vetted. But prosecutors on Thursday appeared to accept the appointment of Jones as special master, according to the Washington Post, and will likely meet with Cohen's attorneys and Wood next week to discuss the process by which the documents will be reviewed. Wood also told both sides to return to court May 25 to discuss the review.