North and South Korea vow to end decades-long war after historic meeting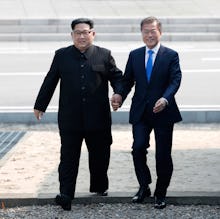 Welcome to Mic's daily read on Donald Trump's America. Want to receive this as a daily email in your inbox? Subscribe here.
Good morning from Emily Singer at Mic.
Here's what's happening in Trump's America:
• North and South Korea agree to end decades-long war between the two divided nations.
About last night: North and South Korea vow to end the Korean War
In a remarkable diplomatic feat, North and South Korea vowed to end the decades-long war between the two countries and agreed to reach a goal of "complete denuclearization of the Korean Peninsula," according to Reuters.
North Korea's Kim Jong Un crossed the Demilitarized Zone that divides the two countries to meet with South Korean President Moon Jae-in — a meeting that led to the two leaders signing a document pledging to come up with a peace treaty to end the war that began more than 65 years ago.
Trump celebrated the news on Twitter Friday morning.
"KOREAN WAR TO END!" Trump tweeted. "The United States, and all of its GREAT people, should be very proud of what is now taking place in Korea!"
However, many still remain skeptical of the deal.
"Extraordinary dev'ts on Korean Peninsula, but — and there must be a but — unclear if NK sincere b/c of sanctions, China or a ploy to reduce sanctions, divide US from SK," Richard Haass, the president of the Council on Foreign Relations, tweeted. "Also unclear whether NK prepared to give up nukes or whether the nukes are what give NK the confidence to do this."
Today in Trump's America: Trump and Merkel meet
Merkel heads to the White House Friday morning, where she'll push Trump to exempt Germany from the steel and aluminum tariffs he's threatened to place on foreign nations as well as convince Trump to keep the Iran nuclear deal, according to the New York Times.
The goals are similar to those French President Emmanuel Macron had during his three-day state visit earlier this week.
However, there won't be any pomp and circumstance for Merkel's visit.
Trump and Merkel don't have the same chemistry that Trump and Macron have.
A little over a year ago, when Merkel met with Trump at the White House, the two shared an awkward moment where Trump appeared to snub Merkel's handshake.
Capitol Hill happenings: Paul Ryan's firing of House chaplain rankles members of Congress
Lawmakers are demanding answers after House Speaker Paul Ryan fired House Chaplain Patrick J. Conroy, a Catholic priest who has served in the role since 2011.
Conroy told the New York Times that he was asked to resign by Ryan's chief of staff, but he wasn't given an explanation as to why. Conroy added that Catholic lawmakers on Capitol Hill are angry with Ryan's move and want answers.
Some Democratic lawmakers believe that a prayer Conroy made about tax reform is what led to his ouster.
"As legislation on taxes continues to be debated this week and next, may all members be mindful that the institutions and structures of our great nation guarantee the opportunities that have allowed some to achieve great success, while others continue to struggle," Conroy said in a Nov. 6 prayer before the House chamber during the tax reform debate. "May their efforts these days guarantee that there are not winners and losers under new tax laws, but benefits balanced and shared by all Americans."
Ryan's office has refused to comment on why Conroy was fired, according to multiple news outlets.
And the rest…
Rob Porter: Porter is back in the news after the FBI told House Oversight Committee Chairman Trey Gowdy (R-S.C.) that it alerted the White House of the domestic violence allegations against Porter in March 2017. When the Porter scandal erupted nearly a year later, the White House denied knowing about the allegations levied against Porter. The FBI sent Gowdy the letter after Gowdy demanded to know, "Who knew what, when and to what extent?"
Ethics admonishment: The Senate Ethics Committee admonished Sen. Robert Menendez (D-N.J.) for "knowingly and repeatedly" accepting "gifts of significant value" from a doctor Menendez was friends with and doing so "without obtaining required Committee approval." The letter could hurt Menendez's political hopes, as he faces re-election in the Garden State in 2018. Still New Jersey's strong Democratic lean, which is especially pronounced in this anti-Trump environment, could save his re-election hopes.