MoviePass removes unlimited option, new users will get a maximum of 4 movies per month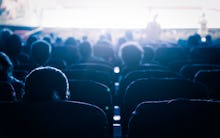 MoviePass is changing how many movies its subscribers can see each month.
Traditionally, MoviePass allowed those who pay the $9.95 per month fee to see one movie per day. Now, however, its site offers only one tier: $29.85 for three months. Instead of allowing one movie per day, now those who sign up will only be allowed to see four movies per month total.
The new pricing tosses in a subscription to iHeartRadio All Access, but reduces the amount of movies new subscribers could potentially see from 30 or 31 each month (28 in February) to four.
Many have noted that, in addition to charging money, Moviepass profits from the information on its users that it can share with movie studios. According to Bloomberg, MoviePass sees $12 to $13 million in losses each month, but expects to break even by 2018's end.
"We're continually testing various promotions with different partners, and the current iHeartRadio deal is consistent with that approach. We have no further details to offer at this time," a spokesperson for MoviePass and Helios and Matheson (the service's parent company), said.
This lines up with pricing experiments by MoviePass in the past. Before the company's $9.95 per month offering, the service used to cost users $15 per month to even as much as $50 per month in big cities. More recently, MoviePass offered an even cheaper option: $7.95 per month billed annually.
Could MoviePass collect more personal data to make up the cost?
The tech industry has shown just how lucrative user data is. Recent earnings reports from Facebook and Google with revenue in the billions remind everyone just how profitable "free" apps can be. Could MoviePass go down a similar route?
While the company does use data to its advantage, there are some lines MoviePass has yet to cross, like tracking location, despite the CEO's jokes. MoviePass's choice to dial back the number of movies available to users appears to show the company has not opted to collecting more data just yet. Though with the company constantly testing new promotions and tiers, this could be one of many upcoming options. For now, $29.85 for 12 movies across three months remains a better deal than buying an individual ticket to each.