Who's Sorry This Week? Shania Twain, Chance the Rapper, Delta Air Lines and other public apologies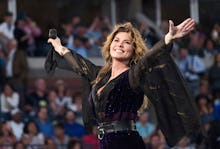 Another week, another deluge of apologies.
In Who's Sorry This Week?, Mic tracks down the most prominent mea culpas from celebrities, companies and other public entities trying to make amends for their various screw-ups.
This week had no shortage of apologies, so let's get right to it.
Shania Twain is sorry for saying she would've voted for Trump
The Guardian published an interview with Canadian country singer Shania Twain on Sunday in which she talked about returning to the spotlight after a lengthy hiatus. And return to the spotlight she did: Soon after the interview went live, Twain came under fire for telling the outlet she would have voted for President Donald Trump if she could have.
"I would have voted for [Trump] because, even though he was offensive, he seemed honest," she said. "Do you want straight or polite? Not that you shouldn't be able to have both. If I were voting, I just don't want bullshit. I would have voted for a feeling that it was transparent. And politics has a reputation of not being that, right?"
In particular, these comments angered her gay fanbase, which has celebrated her as an icon for years.
Soon thereafter, Twain published a series of tweets in which she apologized and claimed the question caught her "off guard."
In his Fox & Friends interview Thursday, Trump responded to Twain — in addition to praising Kanye West's MAGA-fication — saying she "made a mistake" by walking her comments back.
"We know how she feels," Trump said.
Delta Air Lines is sorry for allegedly tying a woman to a wheelchair with a dirty blanket
A man named Nathan Saliagas alleged Tuesday on Facebook that Delta Air Lines employees bruised his mother, Maria Saliagas, when they tied her to a wheelchair using a dirty blanket.
Maria Saliagas, who has multiple sclerosis, is unable to sit up on her own and typically uses a wheelchair with straps to keep her secured, according to ABC affiliate WSB-TV in Atlanta. However, on her April 1 flight to Amsterdam, such a wheelchair was seemingly unavailable.
"The Delta employee thought it would be appropriate to tie my mother with someone else's dirty blanket, in such a way it has left bruise marks on her arms," Nathan Saliagas wrote on Facebook. "When she started crying, she was told to 'shut the fuck up' or she will be 'left there.'"
In a statement provided to WSB-TV, Delta said it "regret[s] the perception our service has left on these customers."
"We have reached out to them, not only to resolve their concerns, but also ensure that their return flight exceeds expectations," a Delta representative said.
Newly drafted Buffalo Bills quarterback Josh Allen is sorry for using racist slurs on Twitter
On Wednesday — a day before the NFL draft — Yahoo Sports reported that highly sought-after quarterback Josh Allen had casually dropped racist slurs on Twitter in 2012 and 2013, when he was in high school.
"Bout to show up these Niggas at pong," Allen wrote in one of the many now-deleted tweets, according to Yahoo.
Allen also responded to a question sent to him on the platform AskFM, which said, "Why are you so white?"
"If it ain't white, it ain't right," Allen said.
Allen apologized for the tweets Thursday.
"If I could go back in time, I would never have done this in a heartbeat," Allen said in an interview with ESPN. "At the time, I obviously didn't know how harmful it was and now has become. I hope you know and others know I'm not the type of person I was at 14 and 15 that I tweeted so recklessly. ... I don't want that to be the impression of who I am because that is not me. I apologize for what I did."
Allen also admitted to reviewing his social media accounts a year ago.
"I had even typed in keywords to see if anything I had tweeted popped up that I needed to clean up, but nothing like these came up or I just missed them," Allen said, according to ESPN. "My agency went over any past social media, and these didn't come up after I did the search."
Chance the Rapper is sorry for defending Kanye West's pro-Donald Trump Twitter rant
Rapper Kanye West set the internet aflame Wednesday when he went on an extended Twitter spree, posting selfies with his "Make America Great Again" hat and saying he "loves" Trump.
This prompted a number of responses from prominent celebrities. Most notably, director Jordan Peele joked that West's tweets inspired him to start writing the sequel to Get Out — a movie about black people who are brainwashed by a racist white family.
Chance the Rapper, a rapper (duh) from West's hometown of Chicago, also chimed in on Twitter — but with a message of indirect support for Kanye.
"Black people don't have to be Democrats," he said.
This set off a wave of criticism against Chance, with respondents saying Chance misunderstood why people were criticizing Kanye.
"No one is upset Kanye's not a Democrat," Esquire contributor Pete Forester tweeted. "They're upset that he's enabling and fanboying over a racist wannabe authoritarian who has made it his mission to separate families, discriminate against POC and LGBT people and remove himself from criminal accountability."
Forester's tweet has nearly 80,000 likes so far.
Chance tweeted a lengthy apology Friday in the form of three screenshots from his iPhone's Notes app, captioned with, "My fault yo."
"Kanye West is not just a mentor or a big homie to me," he said. "He's my family. No matter how much I may disagree with him, it's hard for me to watch people talk about someone I love — even if they were justified in doing so. I didn't speak up because I agree with what Kanye had to say or 'cause I fuck with Trump."
Chance went on to disavow the president, saying he doesn't support "anyone who has made a career out of hatred, racism and discrimination."
"I understand why people are disappointed with my words, but I was raised to believe actions speak louder than words," he added. "So let my apology be seen in my future works, and let me make up for my poorly timed comments with immediate action and advocacy for those who need it most."