Trump calls for Russia investigation to "END NOW"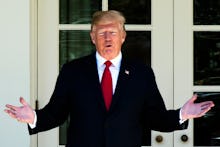 President Donald Trump once again took aim at the ongoing Russia investigation Friday, tweeting that a recently released report by the House Intelligence Committee proves his campaign is being unfairly persecuted over alleged collusion with the Kremlin.
"A total Witch Hunt!" Trump tweeted Friday morning. "MUST END NOW!"
The rant came as the House Intelligence Committee on Friday released a heavily-redacted version of its full report on its yearlong Russia investigation, which Republicans on the committee concluded in March.
Republicans announced at the time that they had found "no evidence of collusion, coordination or conspiracy between the Trump campaign and the Russians." But Democrats on the committee argued that their counterparts had "tanked" the probe and killed it prematurely. Further, Rep. Adam Schiff (D-Calif.), the top Democrat on the panel, said last month that House investigators had actually uncovered "significant evidence" of collusion between Trump's campaign and the Kremlin.
Still, Trump suggested that the House probe had vindicated his campaign, touting the results of the probe in a number of tweets.
The House Intelligence Committee was conducting one of three Capitol Hill Russia investigations. The other two — led by the Senate Intelligence Committee and the Senate Judiciary Committee — are ongoing.
Special counsel Robert Mueller's FBI probe is also ongoing and has already brought down several high profile ex-Trump staffers, including former national security adviser Michael Flynn and former campaign manager Paul Manafort.
Trump has frequently attacked the Mueller probe as a politically motivated witch hunt conjured up by Democrats to explain Hillary Clinton's loss in 2016.
He has also suggested that the probe began with a controversial dossier that was partly paid for by the Democrats and the Clinton campaign. But the New York Times reported earlier this year that the investigation actually began with comments former campaign aide George Papadopoulos made to an Australian diplomat in 2016.