Chance clarifies his tweets: "I'd never support anyone who has made a career out of hatred"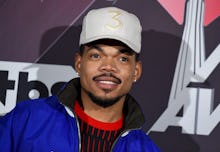 Chance the Rapper needs to clear things up. After the Chicago-based rapper got a shoutout Friday morning from President Donald Trump for a tweet that some seemed to interpret as support for Trump, Chance tweeted a series of screenshots clarifying his intentions. He also seemed to be distancing himself from friend and mentor Kanye West's full-on Trump endorsements Wednesday.
"I didn't speak up because I agree with what Kanye had to say or cause I fuck with Trump, I did it because I wanted to help my friend and cause I felt like I was being used to attack him," Chance wrote.
"Unfortunately, my attempt to support Kanye is being used to discredit my brothers and sisters in the movement and I can't sit by and let that happen either. I'd never support anyone who has made a career out of hatred, racism and discrimination. I'd never support someone who'd talk about Chicago as if it's hell on earth and take steps to make life harder to for the most disenfranchised among us."
The saga started unfolding after West, who only recently returned to Twitter, tweeted about his "love" for Trump, calling him his "brother" and defending "independent thought." By the end of the day on Wednesday, West had tweeted a photo of himself wearing a red "Make America Great Again" hat.
West's tweets got a retweet and a "thank you" from Trump himself, even as fans questioned how West, who once famously called out former President George W. Bush on live TV for racism, had jumped aboard the Trump train.
Amid the Twitter furor over West, Chance got into the fray, tweeting, "Black people don't have to be democrats," which some interpreted as an endorsement of both West and Trump.
At least that's how Trump seemed to take it, when he tweeted, "Kanye West has performed a great service to the Black Community - Big things are happening and eyes are being opened for the first time in Decades - Legacy Stuff! Thank you also to Chance and Dr. Darrell Scott, they really get it."
But, as Chance explained Friday, that apparently wasn't what he meant to say. "My statement about black folk not having to be democrats (though true) was a deflection from the real conversation," he wrote. "We have to talk honestly about what is happened and has been happening in this country and we have to challenge those who are responsible, as well as those who are giving them a pass."
In addition to the screenshots he posted to Twitter, Chance also had a succinct response to Trump's praise for him — retweeting Trump's tweet with the message, "Nah that aint it yo."