The Kim-Moon summit is historic, but the path to "permanent peace" remains uncertain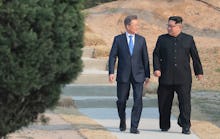 Friday's meeting between Kim Jong Un and Moon Jae-in was unquestionably historic.
Following a year of nuclear provocations, Kim became the first North Korean leader to visit South Korea. In what appeared to be a remarkably congenial summit with the South Korean president, he agreed to negotiate a peace deal and an official end to the Korean War.
It was a stunning development after months of high tensions on the peninsula, and was hailed by many — including U.S. President Donald Trump — as a diplomatic breakthrough that could bring about peace and potential denuclearization.
But while the summit Friday appeared to be a positive step toward stabilizing the region, a great deal of uncertainty remains going forward, Jenny Town, assistant director of the U.S.-Korea Institute at the John Hopkins School of Advanced International Studies, said in an email interview with Mic.
"It is good to see the two Koreas in rapprochement mode after such a tense year [in 2017] and after such a deterioration of relations under the past two South Korean presidents," Town said. "However, a commitment to find solutions is not the same as resolving the issues."
The meeting between Kim and Moon on Friday had symbolic value, as the two leaders embraced, planted a tree together and discussed bringing about a "new era" of relations between the North and South. But there was little concrete detail offered as to how the two sides would move toward the "permanent peace" Kim promised in his first address to the world.
"This commitment to find solutions has been put forth before between the two parties, but there is a lot to unpack in that decision and it is not something that can be solved bilaterally," Town said.
But, she added, Kim's written commitment to the peninsula's denuclearization is significant.
"There is still also a lot to unpack in terms of the how and when that could happen ... but at least to have this commitment in writing from Kim Jong Un keeps the positive momentum that has been started moving down the right path," Town said.
Tensions surrounding North Korea had been rising throughout 2017, with Trump and Kim exchanging personal insults and threats as Pyongyang ramped up its nuclear testing.
But a strong diplomatic push by South Korea in recent months has brought about some positive developments, including a potential meeting between Trump and Kim in the coming months.
"We welcome the efforts from North and South Korea to denuclearize the Korean peninsula," Beatrice Fihn, executive director of the International Campaign to Abolish Nuclear Weapons, said in an emailed statement. "The dangerous rhetoric from Donald Trump and the U.S. brought us to the brink of nuclear war, and only careful diplomacy from South Korea has brought us back from it."
A number of challenges lie ahead for all parties involved, however.
As Town noted, North Korea has previously entered into agreements with South Korea, the U.S. and other actors in the region it has failed to live up to. Kim is also likely to expect some concessions from South Korea and the U.S. during negotiations, and it isn't clear how much Trump would be willing to give — especially as his foreign policy team gets a more hawkish makeover with the additions of Mike Pompeo as secretary of state and John Bolton as national security adviser.
"I'm sure there is a lot [Kim] will be willing to do along the way, especially since he's declared they are already out of the development phase of their nuclear programs, but there will be a lot he will want along the way as well," Town said. "What that is and [whether] the international community [is] ready to provide those incentives [have] yet to be determined."
Still, for all the uncertainty ahead, Friday's meeting was met with cautious optimism by leaders in the U.S. and elsewhere in the world.
"This historic event is the first step in the long journey towards peace on the peninsula, and I applaud efforts to reach an agreement without military escalation," Rep. Ted Lieu (D-Calif.), a member of the House Foreign Affairs Committee, said in a statement Friday. "There will undoubtedly be many challenges that come with ending 65 years of aggression and mistrust. Diplomacy is not easy — but is it always preferable to war."