While you weren't looking: 5 stories from the Trump administration that aren't about Kanye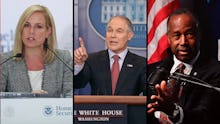 This week was a wild rollercoaster of political news, from President Donald Trump's rambling interview on his favorite morning show, Fox and Friends, to the withdrawal of his nominee to head the department of Veterans Affairs, to, of course, Kanye West's decision to out himself on Twitter as an unabashed Trump supporter.
Trump administration loses track of nearly 1,500 migrant children
The United States government has lost track of 1,475 unaccompanied minors who are supposed to have been placed with adult sponsors in the U.S.
The Department of Health and Human services is tasked with regular check-ins to monitor the welfare of unaccompanied minors after they are placed with sponsors. But in a Thursday hearing before Congress, officials admitted that they had lost track of nearly 1,500 of those children.
During the hearing, Democratic senators blasted the agency and the Trump administration for rolling back protections for unaccompanied minors and failing to follow through with reforms meant to keep those children out of the hands of human traffickers.
Sen. Heidi Heitkamp (D-N.D.) called the agency "the worst foster parents in the world."
Ben Carson wants to triple the rent for the poorest Americans
Secretary of Housing and Urban Development Ben Carson thinks the rent for struggling families is too damn low.
His latest proposal would triple the rent for some of America's poorest families living in subsidized housing, and put nearly one million children at risk of homelessness according to an analysis from the think tank the Center on Budget and Policy Priorities.
Carson issued the proposal on Wednesday, but will need congressional approval to actually implement it.
The proposal is part of a broader package of reforms supported by congressional Republicans to clamp down on assistance programs for poor families.
Nearly half of the 4.7 million families currently receiving housing assistance would be affected by Carson's proposal according to the Washington Post.
Scott Pruitt significantly restricts the research the EPA can use
Environmental Protection Agency administrator Scott Pruitt was heavily featured in this week's news cycle for his testimony before Congress, where he was finally forced to answer for the many ongoing ethics scandals facing him and his EPA.
But in addition to his appearance before Congress, Pruitt also made some less-chattered-about news with a major policy change regarding how the EPA uses scientific research to carry out its mandate.
In what Pruitt referred to as an effort to increase "transparency" Pruitt moved to restrict the agency from relying on any scientific study that does not make all of the underlying research behind its conclusions publicly available.
Environmental scientists warn that this move will prevent the agency from being able to consider a large swath of research dealing with the adverse affects of chemicals and pollutants, because that research often relies on confidential medical information or proprietary information that cannot be disclosed.
Members of the scientific community are already using the 30-day comment period on the new rule to try to prevent its implementation.
Mick Mulvaney tells bank lobbyists how to buy off members of Congress
President Donald Trump ran on a campaign to "drain the swamp," claiming he would put an end to the outsized influence of special interests in Washington.
But on Tuesday, interim Director of the Consumer Financial Protection Bureau Mick Mulvaney offered bank lobbyists a free seminar in how to use their money and influence to push their agenda.
Speaking to a room of 1,300 members of the financial industry at an American Bankers Association conference, Mulvaney recalled some lessons he learned as a Republican member of Congress prior to joining the Trump administration.
"We had a hierarchy in my office in Congress," Mulvaney said. "If you're a lobbyist who never gave us money, I didn't talk to you. If you're a lobbyist who gave us money, I might talk to you."
As head of the CFPB Mulvaney has been frequently criticized for his ties to the financial industry, and the predatory payday lending industry in particular.
In January, Mulvaney's CFPB shut down a probe into a major payday lender that had previously donated to his congressional campaign.
Immigration officials wants to prosecute parents who cross the border with their children
Immigration and Border Patrol officials are urging the Department of Homeland Security to adopt a new zero-tolerance policy for parents crossing the border with children, according to the Washington Post.
The policy would require DHS to prosecute any parents who enter the country with their children, likely resulting in the separation of many families.
The Post obtained a memorandum sent to DHS Secretary Kirstjen Nielsen by the heads of both Immigration and Customs Enforcement and U.S. Customs and Border Protection.
The proposal would force parents to be held and detained in criminal detention facilities where children cannot be held.
The memo also claims that the policy has already been tested by border patrol agents in their El Paso sector from July 2017 to November 2017.