Federal judge dismisses Manafort lawsuit that challenged Mueller's authority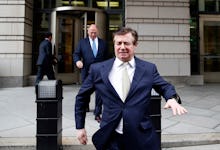 A federal judge on Friday dismissed a civil lawsuit filed by former Trump campaign chairman Paul Manafort that alleged that the reasoning for the appointment of special counsel Robert Mueller was too broad and thus violated Department of Justice regulations.
The lawsuit was an attempt by Manafort and his attorneys to get the charges filed against him dismissed.
"A civil case is not the appropriate vehicle for taking issue with what a prosecutor has done in the past or where he might be headed in the future," U.S. District Judge Amy Berman Jackson wrote in her opinion dismissing the suit. "It is a sound and well-established principle that a court should not exercise its equitable powers to interfere with or enjoin an ongoing criminal investigation when the defendant will have the opportunity to challenge any defects in the prosecution in the trial court or on direct appeal."
In October, a federal grand jury indicted Manafort on 12 counts, including money laundering, making false statements and conspiracy against the United States. Mueller filed additional charges against Manafort in February, which include tax and bank fraud.
In January, Manafort had sued Mueller, saying Mueller did not have the authority to charge Manafort for things unrelated to the 2016 presidential campaign, according to CNN.
The lawsuit said Deputy Attorney General Rod Rosenstein exceeded his authority when he said Mueller could pursue "any matters that arose or may arise directly" from the investigation into whether the Trump campaign colluded with Russia in the campaign, according to Reuters.
The Department of Justice told CNN at the time the lawsuit was "frivolous."