Trump calls on Sen. Jon Tester to resign over Ronny Jackson allegations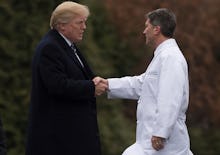 President Donald Trump on Saturday called for Sen. Jon Tester (D-Mont.) to resign, tweeting that a White House review shows the allegations that caused his veteran's affairs pick to withdraw his nomination earlier this week were nothing but "slander."
"Tester should resign," Trump tweeted early Saturday. "Admiral Jackson is the kind of man that those in Montana would most respect and admire, and now, for no reason whatsoever, his reputation has been shattered."
"Not fair, Tester!" Trump added.
Democrats had already expressed concern about a lack of qualifications when Trump in March nominated his physician, Ronny Jackson, to be his new head of the Department of Veterans Affairs — one of the biggest government bureaucracies, which handles veterans' health care.
But Jackson was forced to withdraw from consideration this week when Tester, the top Democrat on the Senate Veterans Affairs Committee, outlined a damning set of allegations against the doctor on Wednesday, including that he drank on the job and drunkenly wrecked a government vehicle following a Secret Service going away party.
On Friday, however, the White House challenged those accusations, saying it had conducted a "comprehensive" review of government databases and found no records of the crash Tester's office alleged.
Both Trump and Jackson had previously denied Tester's allegations, including that the physician was known as "Candyman" because of his willingness to hand out drugs without a prescription.
In his attack on Tester Saturday, Trump said his allegations are "proving false" and that the Secret Service has refuted "the phony Democrat charges which have absolutely devastated the wonderful Jackson family."
He also suggested that Tester could face political backlash in his home state of Montana, which Trump won by more than 20% in 2016, if he does not resign.
"The great people of Montana will not stand for this kind of slander when talking of a great human being," he tweeted.
Tester has not appeared to respond to Trump's attack as of Saturday morning.
Jackson, a former rear admiral in the United States Navy, was appointed White House physician by former President George W. Bush and served as physician to the president under both former President Barack Obama and Trump.
On Friday, Trump described the doctor as an "American hero" and said he has "many people who want the position," but did not say who he would be his new pick to lead Veterans Affairs.