Trump says the time and location of meeting with Kim Jong Un is "being set"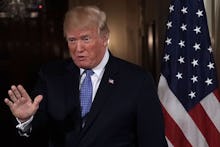 President Donald Trump gave further indication on Saturday that his highly anticipated meeting with North Korean leader Kim Jong Un will, in fact, occur, tweeting that the "time and location" of the summit is in the process of being negotiated.
"Things are going very well," Trump tweeted, announcing that he'd spoken with South Korean President Moon Jae In and Japanese Prime Minister Shinzo Abe about the planning.
The update came after a historic week on the peninsula, in which Kim — following a year of ramped up nuclear testing — met with Moon and became the first North Korean leader to set foot in South Korea.
The two leaders agreed Friday to formally end the Korean War and begin working toward what Kim called a "permanent peace."
It was a stunning summit and was hailed by leaders in the United States and beyond as potentially the "first step in the long journey towards peace on the peninsula."
"There will undoubtedly be many challenges that come with ending 65 years of aggression and mistrust," Rep. Ted Lieu (D-Calif.) said in a statement Friday. "Diplomacy is not easy — but is it always preferable to war."
Trump, who has partially credited his hardline stance on North Korea for getting Kim to the negotiating table, confirmed in March that he planned to meet with Kim sometime in the spring, but has suggested as recently as this week that it was possible such a rendezvous may not occur.
"It could be that I walk out quickly, with respect, but it could be. It could be that the meeting doesn't even take place," Trump said in a rambling interview with Fox & Friends on Thursday. "Who knows?"
But he also confirmed recently that Mike Pompeo, his new secretary of state, has already met with Kim and the White House this week released a photo of the two.
On Saturday, he appeared to indicate that the two sides are getting closer to setting plans for the meeting — echoing comments he made in a joint press conference with German Chancellor Angela Merkel Friday.
"I will be meeting with Kim Jong Un in the coming weeks," Trump said. "We look forward to that."
He said that negotiators have narrowed potential locations down to two sites, which CBS News reported to be Mongolia and Singapore.
Such a summit comes with significant risks, and it isn't clear if the two unpredictable leaders — with a history of trading schoolyard insults and nuclear threats — will be able to come to an agreement. But it could also be a major step toward further de-escalating tensions on the peninsula — and potentially even denuclearizing it.
"We have a very good working relationship," Trump said of Kim. "Things have changed very radically from a few months ago. You know the name calling and a lot of other things. We get a kick every once in a while out of the fact that I'll be watching people that failed so badly over the last 25 years explaining to me how to make a deal with North Korea. I get a big, big kick out of that."