This week in Trump-Russia news: Trump is seeing red on FBI probes as senators stand by Mueller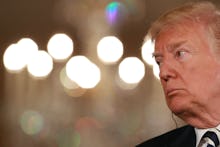 Robert Mueller has been quiet for a couple weeks, while President Donald Trump has been anything but.
In an instantly infamous Fox and Friends interview Thursday, the president lashed out against former FBI Director James Comey, federal officials investigating his longtime attorney Michael Cohen and those carrying out the "phony" Russia probe.
"I'm fighting a battle against a horrible group of deep-seated people — drain the swamp — that are coming up with all sorts of phony charges against me and they're not bringing up real charges against the other side," Trump said. "So we have a phony deal going on, and it's a cloud over my head. ... It's a fix and it's a witch hunt and people know that."
Substantively, it was nothing new for a president who has made vitriolic attacks on the FBI, Department of Justice and his political opponents a matter of routine. But it's one thing to read that withering criticism on Twitter, where most of it has been leveled, and another thing entirely to hear him yell it on live television. Indeed, the audible anger in his voice as he ranted at the Fox News hosts seemed to belie the impression he's sought to give in recent weeks that the Cohen probe has "nothing to do" with him and that he has been vindicated in the Mueller investigation.
Here's what you need to know out of the Russia investigation this week:
Trump calls for "END" of Mueller investigation
The House Intelligence Committee on Friday released a redacted version of its report on Russia's 2016 election interference, which concluded that the Trump campaign did not collude with the Kremlin.
Trump immediately pounced on it, citing the panel's conclusion once again as evidence that the entire Russia investigation is a "total Witch Hunt" that "MUST END NOW!"
But the committee's findings remain as controversial now as they were when Republicans first outlined them after ending the probe in March.
The panel's Democrats — who have accused their Republican counterparts of kneecapping the investigation and prematurely killing it — also released their own report, in which they dismiss the GOP conclusions as "misleading and unsupported by the facts and the investigative record."
"They have been crafted to advance a political narrative that exonerates the president, downplays Russia's preference and support for then-candidate Trump, explains away repeated contacts by Trump associates with Russia-aligned actors and seeks to shift suspicion towards President Trump's political opponents and the prior administration," the minority report read.
Rep. Adam Schiff (D-Calif.), the panel's top Democrat, directly called out Trump's tweet suggesting that he was vindicated by the committee's probe on Friday.
"Mr. President, to conclude there is 'no evidence' of collusion, you must ignore Russia's extensive efforts to help your campaign, the litany of communications between Russia and your campaign and the massive effort to conceal these contacts," Schiff tweeted.
Trump-Comey nightmare feud continues
Meanwhile, Trump and James Comey stretched their excruciating feud into yet another week.
The former FBI director continued his anti-Trump media tour with an appearance at a CNN town hall on Wednesday, which Trump responded to both in his Fox News interview Thursday and in a confusing tweet on Friday.
"James Comey can't define what a leak is," Trump wrote. "He's either very sick or very dumb."
"Remember sailor!" Trump added, possibly referring to a Navy officer who had been convicted for illegally photographing the inside of a nuclear submarine in 2009.
The submariner, Kristian Saucier, was pardoned by Trump in March.
The Trump-Comey feud had been mostly one-sided for nearly a year, but the fired FBI head has fought back hard in a slew of media appearances in recent weeks to promote his memoir, A Higher Loyalty, in which he recounts the president's suspicious behavior during their interactions with one another.
Trump has reacted by calling Comey a "weak and untruthful slime ball."
Comey has returned the personal insults, describing him as "morally unfit to be president."
Senators advance bipartisan bill protecting Mueller
Comey's May 2017 firing has since become a key part of the FBI investigation by Mueller, who has been the subject of broadsides from Trump and his allies for months.
Amid heightened concerns that the president may attempt to fire Mueller, the Senate Judiciary Committee this week passed a bill to protect the special counsel from political attacks.
With the 14-7 vote Thursday, the legislation now moves to the full Senate, where it faces a tough — and likely impossible — path forward.
Senate Majority Leader Mitch McConnell has repeatedly said that he does not see such a bill as necessary, and Trump almost certainly would not sign it.
But the bipartisan vote Thursday may have sent an important symbolic message to the president, who has already reportedly attempted to fire Mueller once and has been mulling terminating Rod Rosenstein — the deputy attorney general overseeing the Mueller probe.
Four Republicans — Sens. Chuck Grassley (R-Iowa), the chairman of the Judiciary Committee; Jeff Flake (R-Ariz.), Lindsey Graham (R-S.C.) and Thom Tillis (R-N.C.) crossed the aisle Thursday to help Democrats advance the bill.
The Special Counsel Independence and Integrity Act — introduced by Graham in April and co-sponsored by Sens. Tillis, Cory Booker (D-N.J.) and Christopher Coons (D-Del.) — would give the attorney general or the next-highest DOJ official the sole authority to fire the special counsel. Further, it would only permit them to do so for "misconduct, dereliction of duty, incapacity, conflict of interest or other good cause."
A fired special counsel would be given an opportunity to appeal the dismissal.
While the bill probably has almost no chance of passing — at least at the moment — it does send a signal to the White House that there are at least some Republicans who would seek to enforce consequences on the president if he moves to undermine his investigators.
The vote "was an important step in protecting the rule of law," Danielle Brian, executive director of the Project On Government Oversight, told Mic in an email Thursday. "It also demonstrates that there is still space for Democrats and Republicans to work together in good faith for the good of the country."
Mueller, Giuliani negotiating possible Trump interview
Mueller has been relatively quiet recently following a spurt of activity in the late winter, which included a superseding indictment for Paul Manafort and a guilty plea from his longtime associate Rick Gates.
Manafort, the former chairman of the Trump campaign, had his challenge to Mueller's authority thrown out Friday by a district judge.
He had been looking to get the charges against him dismissed by arguing the scope of the special counsel's investigation was too broad.
That didn't pass muster for U.S. District Judge Amy Berman Jackson, who dismissed Manafort's lawsuit as an "[inappropriate] vehicle for taking issue with what a prosecutor has done in the past or where he might be headed in the future."
"It is a sound and well-established principle that a court should not exercise its equitable powers to interfere with or enjoin an ongoing criminal investigation when the defendant will have the opportunity to challenge any defects in the prosecution in the trial court or on direct appeal," Jackson wrote in the ruling.
The decision would seem to heighten the pressure on Manafort, one of several former Trump officials to be nabbed in the Mueller probe. Still, Trump and his allies have attempted in recent weeks to suggest is nearing its conclusion, most notably with the hiring of former New York City Mayor Rudy Giuliani.
The ardent Trump ally joined the president's legal team with a promise to "negotiate an end" to the Mueller probe. On Tuesday, he reportedly met with the special counsel, apparently as part of negotiations to arrange an interview between Trump and investigators.
According to the New York Times, Giuliani is trying to feel out Mueller and determine if he's "truly objective." The president's legal team appears particularly concerned about how much the special counsel trusts Comey, who has been sharply critical of the president and whose accounts of his interactions with him could prove damaging.
"At this stage of an investigation, it'd be highly unusual to let an ordinary client testify," Giuliani told the Times. "This isn't an ordinary client. This is the president of the United States."