Outrage continues over White House Correspondents Association dinner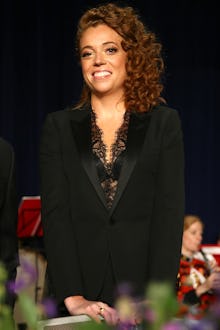 Welcome to Mic's daily read on Donald Trump's America. Want to receive this as a daily email in your inbox? Subscribe here.
Good morning from Emily Singer at Mic.
Here's what's happening in Trump's America:
• Washington continues to twist itself into knots over the White House Correspondents' Association dinner entertainment.
About the weekend: The outrage machine over the White House Correspondents' Association dinner continues
More than 24 hours after comedian Michelle Wolf roasted Trump administration officials at the annual White House Correspondents' Association dinner, conservative pundits and some of the country's top reporters continue to be outraged over some of Wolf's jokes.
The jokes that some are taking offense at include one about White House press secretary Sarah Huckabee Sanders lying from the briefing room podium.
"I actually really like Sarah. I think she's really resourceful. She burns facts, and then she uses that ash to create a perfect smokey eye," Wolf said of Sanders. "Maybe she's born with it? Maybe it's lies?"
The New York Times' Maggie Haberman said it was "impressive" that Sanders "sat and absorbed intense criticism of her physical appearance," while former White House press secretary Sean Spicer called the event a "disgrace."
Matt Schlapp, a conservative Trump surrogate, claimed to have "walked out early" from the event. But reporters who were there said Schlapp was still lingering around at the hotel where the event was hosted, and he was later spotted at an after-party event hosted by MSNBC. So much for that phony outrage.
"You just moved the @nytimes 2020 election night needle about 5% in Trump's direction," Daily Mail reporter David Martosko, who interviewed for a role on Trump's communication staff, tweeted at Wolf. (Your NTA newsletter reporter can assure you that one comedian's roast of Trump administration officials more than two years before the 2020 election won't mean a darn thing.)
Even Trump got in on the criticism of the night, calling the comedian's jokes "filthy" and said the event was an "embarrassment."
If there's one thing Trump would know, it's filthy jokes, as he was a regular on shock jock Howard Stern's radio show, talking about his own sexual exploits and commenting on women's breast size. And who could forget the infamous Access Hollywood tape in which Trump said he could grab women "by the pussy" without their consent because he was a celebrity and could "do anything."
After the backlash, the WHCA said it's "heard from members expressing dismay with the entertainer's monologue," which the WHCA said "was not in the spirit" of the WHCA's mission. (We're not sure what the WHCA members thought a comedian would do besides roast the administration currently in the White House.)
The backlash over the dinner overshadowed Trump's counterprogramming of the event.
Trump held a campaign rally in Michigan in which the audience booed the Hispanic race and Trump just made up facts.
Today in Trump's America: More world leader visits
Trump on Monday will host Nigerian President Muhammadu Buhari — who will be the first leader from sub-Saharan Africa to visit the Trump White House, according to the BBC.
While Trump and Buhari are set to discuss their respective countries' economic interests, onlookers will be watching to see whether Trump's "shithole" country comment is addressed at a joint news conference Monday afternoon.
In January, Trump called African nations and Haiti "shithole countries" and suggested he didn't want immigrants from those countries coming to the U.S.
Capitol Hill happenings: Recess… again
Both the House and Senate are out on recess this week.
And the rest…
Ronny Jackson: Not only did Jackson withdraw his nomination to head the Department of Veterans Affairs, he's also not returning to his role as Trump's physician.
Journalists killed: Twenty-nine people — including eight journalists — were killed in a suicide attack in Afghanistan on Monday, according to CNN.
Correction: April 30, 2018
An earlier version of this story misstated the significance of President Muhammadu Buhari's visit to the White House. He is the first president of a sub-Saharan African country to visit the White House during the Trump presidency.