A Facebook dislike button may finally arrive, via upvote and downvote options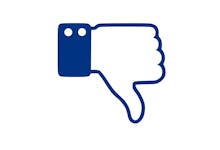 Facebook users have wanted a dislike button to match the iconic like option for years. A solution may finally be on the way.
Screenshots have surfaced of Facebook's new way to engage with posts. Instead of simply liking a comment or offering an emoji response, some users now have the option of upvoting and downvoting what users post.
According to the Independent, only New Zealand and Australia have access to the to upvote and downvote arrows, though some users in the Netherlands can make use of them as well. Unfortunately, the option is only available for comments.
Twitter user @MattNavarra posted images of the upvote/downvote option. Facebook notes that the up arrow is meant to be used when a comment is helpful, while down is meant to be used when a comment is disrespectful.
The like has been an iconic part of the Facebook experience for years. The same can be said about the upvote/downvote arrows popularized by Reddit. In response to Facebook's decision to include the arrows, Reddit cofounder Alexis Ohanian offered a single word: "Flattered."
This isn't the first time we've seen Facebook give users a way to express their disapproval. Prior to the downvote, Facebook introduced reaction options in 2016. Instead of stamping a thumbs down on a friends post, users could assign one of five emoji. While a downward-facing thumb wasn't available, sad and angry faces, among other emotions, were.
Facebook hasn't mentioned when they plan on making upvote and downvote options available to the rest of its users. It's possible the company might announce the new feature on stage at their F8 developer conference starting May 1.