With a size range up to DDD, Rihanna's Savage x Fenty is set to shake up lingerie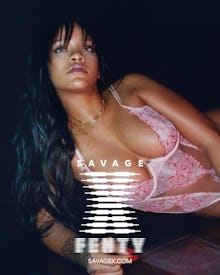 With each passing day, it's clear Rihanna's Savage x Fenty is about to do for lingerie what Fenty Beauty did to makeup.
While Fenty Beauty got inclusive by zeroing in on people of color with an extensive shade range, Savage x Fenty appears to be focusing on plus-size and curve customers with a range of bra sizes up to DDD. When the brand announced its May 11 launch, cup sizes went up to DD — clearly, Savage x Fenty saw a demand.
For a little perspective, DDD is the biggest cup size Victoria's Secret currently offers. The retailer's band sizes go up to 40, while Savage x Fenty will include band sizes up to 44. And while XL is the largest underwear size at Victoria's Secret, Savage x Fenty's initial announcement indicated its underwear will be offered in sizes XS-3XL.
Of course there are cup sizes far beyond DDD, band sizes beyond 44 and underwear sizes beyond 3XL, but for a brand like this to launch with such a wide size range feels like a win.
What's only added to the idea of Savage x Fenty as an increasingly body-positive brand is the campaign videos it has released featuring models of various sizes talking about their bodies.
Over the weekend, curve model Audrey Ritchie starred in one of those campaign videos in which she spoke about the size of her breasts.
"I have really giant boobs," Ritchie said in the video. "They were DDs by the time I was in eighth grade. I think I feel most sexy in the morning — rolls, stretch marks, cellulite."
In a caption for the video on Instagram, Rihanna wrote, "Savages come in all shapes and sizes!! Ya ready?"
Other models featured in campaign videos thus far include Lulu Bonfils and Stella Duval, both of whom are successful curve models.
What's also notable is the diverse range of breast sizes among the models featured in these Savage x Fenty campaigns, something other brands — including Victoria's Secret fashion shows — have long failed to showcase.
Beyond being a potentially huge lingerie brand with diverse model casting and inclusive cup, band and underwear sizes, Savage x Fenty is reportedly going to be a subscription service, too.
BuzzFeed reported the brand will be marketed through an annual membership service that will offer subscribers discounted prices.
If Savage x Fenty ends up being a success — like Fenty Beauty definitely has been — the lingerie industry is destined for a big shake-up, all thanks to the always-thoughtful Rihanna.