11 of the biggest Met Gala red carpet fashion risks that paid off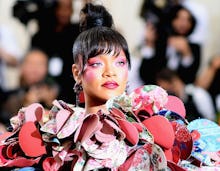 The Met Gala red carpet is a place where celebrities can come as stars and leave as fashion icons. Take it from Rihanna, who's taken it upon herself to make Met Gala red carpets legendary again.
Now, do you think you'd ever be able to go from star to fashion icon in one night by playing it safe? No, friends, never. Throw all your little black dresses in the garbage for this one.
The Met Gala offers stars the rare opportunity to wear some truly batty fashion, pull it off and launch themselves into another celebrity universe entirely. That's why watching the red carpet is so fun. Sometimes these risks don't work, but other times they pay off in a big way. Here are our favorites moments when some truly risky fashion looked perfectly right.
Princess Diana in a Dior slip at the 1996 Met Gala
Picture it: It's 1996. Princess Diana's divorce is soon to be finalized. She decides to go to the Met Gala for the first time ever, on a night honoring Christian Dior. She chooses something not fit for a princess, which would be demure and conservative, but a slinky midnight blue slip dress, complete with lace, by Dior.
Her friend, fashion editor Liz Tilberis, who had a closely-shaved head at the time, is her date.
It ruled.
Amber Valletta in a massive wig for the 2004 Met Gala
Wolfgang Amadeus Mozart, who?
To the 2004 Met Gala, with its theme of Fashion and Furniture in the 18th century, model Amber Valletta showed up looking like, well, kinda like the 18th century threw up all over her.
And we mean that in the nicest way possible.
With a high powdered wig that made her look like a 18th century musician or member of government, and a dress wildly patterned and held in tight with a corset, Valetta dressed to the theme exactly.
Sarah Jessica Parker in a quasi-kilt at the 2006 Met Gala
Yeah, yeah, we know Sarah Jessica Parker's got a rocky fashion history at the Met Gala. What she wore to the 2015 and 2013 galas still haunts us. But in 2006, girl showed up in a matching plaid ensemble alongside Alexander McQueen and created a moment.
Would this ever work on any other red carpet? Not in a million years. That's why we love it.
Ashley Olsen with puffy sleeves at the 2011 Met Gala
For the gala honoring Alexander McQueen in 2011, Ashley Olsen, sans her sister Mary-Kate, wore a vintage Dior dress that could have gone very wrong. With those puffy sleeves she could have been written off as looking too pirate-y (fair), or a woman miraculously floating between the 21st century and the 18th.
But instead, she came off looking chic as can be.
Grace Coddington in pajamas (basically) for Met Gala 2015
This is deeply our shit.
In a pantsuit with Asian accents (a nod to the night's theme) by Michael Kors that looked like straight-up satin pajamas from afar, Vogue creative director and legend Grace Coddington showed us how glorious this sleepwear trend can be.
Beyoncé's naked dress moment at the 2015 Met Gala
Perhaps in an effort to overshadow her most infamous 2014 Met Gala moment (that elevator fight), Beyoncé showed up to the 2015 gala in a naked dress (courtesy of Givenchy) that redefined what a "naked dress" really is.
This was Bey as we'd never seen her before, and actually more of Bey than we'd ever seen before, which of course brought on a considerable amount of debate. To us though, this was simply iconic.
Nicole Kidman as a mystical goddess at the 2016 Met Gala
Kidman's style for years at the Met Gala always skewed towards the classic, with column dresses and demure silhouettes. But in 2016, she had fun. Wearing a bedazzled Alexander McQueen dress, complete with cape and astrological imagery, Kidman's risk paid off.
Kim Kardashian West and Kanye West encased in silver at the 2016 Met Gala
Like Sarah Jessica Parker, Kim Kardashian West has had a few rough Met Gala moments, including that one dress with the couch-esque fabric in 2013. But in 2016, she truly impressed us, and certainly didn't play it safe.
With a fully metallic silver dress from Balmain, which looked like armor from afar, and her man Kanye West in a matching ensemble beside her, Kardashian West created a true moment with this look.
The tin man was shook.
Caroline Kennedy in Comme des Garçons in 2017
We all know that Rihanna could pull off Comme des Garçons on the 2017 Met Gala red carpet, but a Kennedy? We never would have guessed.
Luckily Caroline Kennedy showed up in a voluminous, floral, overwhelming dress that made her arms invisible to prove us so very wrong.
Rihanna at the 2015 and 2017 Met Gala
How could we pick just one?
In both 2015 and 2017, Rihanna used her superhuman fashion sense to show everyone on the Met Gala red carpet how to do a theme right. In 2015, Rihanna wore the magnificent Guo Pei, a Chinese designer honored in the Met's exhibit that season.
In 2017, Rihanna stuck to the theme exactly too, wearing a highly intricate Comme des Garçons creation that frankly looked more like art than clothing.
And isn't that what the Met Gala is really all about?
Rihanna's is serving as a co-host of the Met Gala this coming Monday, so buckle up.