Stormy Daniels sues Trump for defamation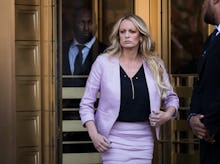 Porn actress Stormy Daniels is using President Donald Trump's favorite legal tactic to cause more trouble for the embattled commander-in-chief: suing him for defamation.
Daniels filed a lawsuit Monday alleging Trump defamed her when he posted a tweet attacking the sketch Daniels released about a man she says threatened her in a parking lot in 2011, when she was looking to talk publicly about her alleged affair with Trump.
"A sketch years later about a nonexistent man. A total con job, playing the Fake News Media for Fools (but they know it)!" Trump tweeted April 18, retweeting another account that suggested the sketch looked like Daniels' ex.
"Mr. Trump's statement is false and defamatory," the lawsuit reads. "In making the statement, Mr. Trump used his national and international audience of millions of people to make a false factual statement to denigrate and attack Ms. Clifford." (Daniels' legal name is Stephanie Clifford.)
The lawsuit claims Trump sent the tweet with actual malice — the legal term that means Trump knew the tweet was defamatory, but sent it anyway.
"Mr. Trump knew that his false, disparaging statement would be read by people around the world, as well as widely reported, and that Ms. Clifford would be subjected to threats of violence, economic harm and reputational damage as a result," the lawsuit states.
"Moments ago, we filed this lawsuit against Mr. Trump for his recent irresponsible and defamatory statements about my client @stormydaniels," Michael Avenatti, Daniels' lawyer, tweeted. "He is well aware of what transpired and his complicity. We fully intend on bringing it to light."
The lawsuit doesn't specify how much money in damages Daniels is pursuing, instead saying she is seeking "compensatory damages in an amount to be proven at trial."
Daniels is already suing Trump over a hush money agreement under which Trump's personal lawyer paid Daniels $130,000 to keep quiet about an alleged affair she had with the future president.
Trump himself has filed or threatened to file multiple libel and defamation cases. In 2011, Trump lost a defamation case against the author of a book that alleged Trump wasn't a billionaire, as he has claimed, and was actually worth between $150 million and $250 million.
Trump has also threatened to sue media outlets, including the New York Times, which in 2016 published an article featuring two women who accused Trump of sexual harassment and inappropriate touching.