Mueller looks to be investigating collusion, based on questions he wants to ask Trump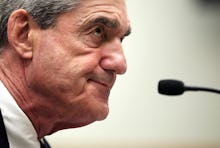 Welcome to Mic's daily read on Donald Trump's America. Want to receive this as a daily email in your inbox? Subscribe here.
Good morning from Emily Singer at Mic.
Here's what's happening in Trump's America:
• John Kelly is in hot water after reports that he called Trump an "idiot."
About last night: Mueller wants to ask Trump about possible obstruction, collusion
A list of questions special counsel Robert Mueller wants to ask Trump was leaked to the New York Times, and it includes an interesting array of topics, ranging from obstruction of justice to collusion with the Russian government in the 2016 election.
Many of the questions relate to now-former national security adviser Michael Flynn and what Trump knew about Flynn's contacts with Russia. There are also questions that seek Trump's motive for firing now-former FBI Director James Comey — a move that ultimately led to Mueller's appointment — as well as questions about whether Trump ever asked Attorney General Jeff Sessions to protect him.
The most interesting questions, however, are on the topic of collusion with the Russian government. Trump has vehemently denied collusion between his campaign and the Russians, but Mueller is clearly still investigating that very allegation. The most eye-popping question in the long list is one about collusion.
"What knowledge did you have of any outreach by your campaign, including by Paul Manafort, to Russia about potential assistance to the campaign?" reads one question Mueller has for Trump, according to the New York Times.
That question suggests Manafort may have reached out to the Russians about helping the Trump campaign, which, if true, would be a major development.
It's unclear whether Trump will ever sit for an interview with Mueller to answer this long list of questions. His team of lawyers have been negotiating with Mueller's team about an interview, but many close to Trump worry the interview could get him into trouble, given Trump's penchant to exaggerate, lie and otherwise spew falsehoods.
Alan Dershowitz, a lawyer who has criticized the investigation into Trump, said on CNN Monday night that the questions are a risk for Trump because they are "designed to let him ramble and talk and I suspect that's the strategy of the special counsel, because they know that may be President Trump's weakness."
Trump, for his part, decried the leak of the questions to the media.
"So disgraceful that the questions concerning the Russian Witch Hunt were 'leaked' to the media," Trump tweeted Tuesday morning. "No questions on Collusion. Oh, I see...you have a made up, phony crime, Collusion, that never existed, and an investigation begun with illegally leaked classified information. Nice!"
However, based on the New York Times' sourcing language, the leak indirectly came from Trump's legal team. Mueller's team read the questions to Trump's lawyers, who wrote the questions down and compiled them into a document, which was then leaked to the New York Times by "a person outside Mr. Trump's legal team," according to the Times' source wording.
His assertion that there were no questions about collusion is also a completely false statement given there were, in fact, questions on collusion.
Today in Trump's America: John Kelly on defense after report that he called Trump an "idiot"
White House chief of staff John Kelly's tenure at the White House looks tenuous, after NBC News reported Kelly called Trump an "idiot" multiple times during his time on staff. CNN also reported that Kelly called Trump "unhinged."
Kelly released a statement Monday night calling the report "total BS."
"I spend more time with the president than anyone else and we have an incredibly candid and strong relationship," Kelly said in the statement. "He always knows where I stand and he and I both know this story is total BS. I am committed to the president, his agenda and our country. This is another pathetic attempt to smear people close to President Trump and distract from the administration's many successes."
There are other problematic allegations in the NBC News article that Kelly didn't address in his statement. They include a report that Kelly had to convince Trump not to pull all U.S. troops from the Korean Peninsula ahead of the Winter Olympics as well as Kelly's conduct toward female White House aides.
According to NBC News, Kelly said "multiple times" that "women are more emotional than men," and he refuses to use expletives when "a lady is present." In an interview with NBC News, White House spokespeople who refused to go on record didn't deny that Kelly had made those comments, with one unnamed spokesperson agreeing with Kelly's assessment that "generally speaking, women are more emotional than men."
Kelly also was sympathetic to now-former White House staff secretary Rob Porter, who was dismissed earlier this year after it was reported that two of Porter's ex-wives accused him of domestic violence. According to NBC, Kelly "questioned why Porter's ex-wives wouldn't just move on."
According to NBC News, there's speculation that Kelly may leave his post in July, his one-year anniversary on the job.
Capitol Hill happenings: Group of House Republicans draft articles of impeachment against Rosenstein
Members of the House Freedom Caucus — a conservative wing of the GOP who have been top Trump defenders — drafted articles of impeachment against Deputy Attorney General Rod Rosenstein, the Washington Post reported.
The group, led by Rep. Mark Meadows (R-N.C.), takes issue with the Justice Department's response time in turning over documents Republicans requested that are related to the FBI investigation into the Trump campaign's possible ties with Russia.
"My frustrations about their inability to respond to simple requests could warrant further action," Meadows told the Washington Post, calling the articles of impeachment a "last resort."
If the group goes forward and refers its articles of impeachment to the House Judiciary Committee, it would put Republican leaders in a tough spot. Congressional GOP leaders have said there is no need to draft a bill to protect Mueller because they don't believe Trump is going to fire the special counsel. But if this group of House members who are close to Trump tries to impeach Rosenstein — who oversees Mueller and is the fail-safe against a Mueller firing — the move would poke holes in that argument.
And the rest…
Scott Pruitt: All has been quiet for Pruitt since he faced two House committees last week to defend his tenure at the helm of the EPA. But he's once again in the news after a whistleblower came forward to ABC News to say Pruitt told a "bold-faced" lie when he said he didn't retaliate against EPA workers who questioned his spending.
Iran: Israeli Prime Minister Benjamin Netanyahu gave a presentation on Monday that looked to be an effort to convince Trump to pull the Iran nuclear deal. However, Netanyahu didn't reveal anything new in his presentation, experts told Vox, calling the presentation "underwhelming."
In a statement after Netanyahu's presentation, the White House said, "These facts are consistent with what the United States has long known: Iran has a robust, clandestine nuclear weapons program that it has tried and failed to hide from the world and from its own people."
The use of the present tense of "has" in the White House statement is incorrect, however, and the White House later corrected the statement to "had." This is because there is no evidence Iran has restarted its nuclear weapon program despite pursuing one in the past.