Facebook announced VR hangouts with "Spaces" at last year's F8 — so where is it now?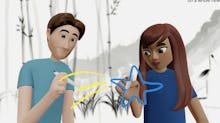 At its annual F8 developer conference in 2017, Facebook announced a public beta for Spaces, an app that allows Facebook users to meet up in virtual reality and play games, watch videos and more.
But over a year later — and four years after Facebook's $3 billion purchase of virtual reality company Oculus in 2014 — we've arrived at the next F8 developer conference, and it feels like no one is using Facebook Spaces.
Spaces includes some unique features not found on traditional Facebook. Instead of a profile picture, users are tasked with creating a personalized avatar. Once created, you can meet with friends in VR to watch 360-degree videos, play games and take virtual selfies. But you need a VR headset to do all this.
Spaces was announced with support for the Oculus Rift VR headset; owners of the HTC Vive headset gained Facebook Spaces compatibility in December. And though Facebook counts its users in the billions, the number of people who own VR headsets is much more modest. Quarterly shipments of VR headsets to storefronts just crossed the 1 million mark late last year, and the platforms that support Spaces accounted for roughly a third of that — with Oculus Rift at 210,000 shipments and HTC Vive at 160,000.
As the ratings section of Spaces' Oculus app store page shows, the number of those who have used the app is at least in the hundreds. However, the Oculus and HTC headsets' high price tags ($399 and $499, respectively) mean you probably don't know many people with VR helmets, a requirement to make full use of Spaces.
Although Facebook Spaces hasn't caught on like wildfire, we have seen some interesting uses for it. Conundrums, the VR talk show by Slate, depicts host Lindsey Weber interviewing people like Wyclef Jean and Cipha Sounds in virtual reality.
"Spaces is a fun, weird and cool way to experiment with VR," Weber told Mic through a spokesperson. "I took Wyclef Jean to Jupiter and went home with Hodor. Who doesn't want that?"
Weber and her team will continue to use Facebook Spaces for her upcoming show It's a Virtual Life, she said.
Facebook Spaces may not be the way we all use Facebook, but it hasn't exactly failed as a beta. The platform is still around and gaining new features. If anything, the free app's success is mostly affected by the number of people who own an Oculus Rift or HTC Vive. Even if you own a headset, you would need to know someone else who does.
At the very least, Spaces is more successful than failed Facebook projects like Slingshot (its Snapchat competitor) and its smartphone the First — at least for now.