Harvey Weinstein documentary 'Citizen Harvey' heading to Cannes Film Festival in May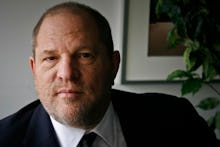 This month, Harvey Weinstein's presence will once again be felt at the Cannes Film Festival — but this time, as the subject of a film rather than its backer.
Citizen Harvey, the documentary's working title, will feature a detailed look at the ongoing fallout from dozens of allegations of sexual misconduct against Weinstein, Variety reported. The film, which is directed by Ursula Macfarlane and produced in part by the BBC, will feature a "deeper, more layered and complex story than has hitherto been told on screen on this subject," two of the docs producers, Simon and Jonathan Chinn, said per Variety.
"We want the film to illuminate how power operates for those who hold it, those who are abused or seduced by it and those who allow it to go unchecked and unchallenged," the Chinns, who are cousins, said. "With similar excesses and abuses now coming to light around the world, we think that Citizen Harvey will have incredible resonance for international theatrical audiences."
In October, Weinstein's influence and power in the film industry crumbled when the New York Times and the New Yorker published the accounts of several women who said Weinstein exploited them.
In the weeks and months following, dozens more came forward with similar tales, resulting in Weinstein's removal from the Weinstein Company. This set off an ongoing upheaval of Hollywood's existing power structures, reinvigorated interest in the #MeToo movement started by activist Tarana Burke and spurring the creation of the Time's Up Legal Defense Fund.