Lesbian sex scenes can be problematic. In 'Disobedience,' Rachel Weisz tried to avoid that.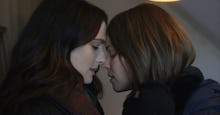 Cinema history is littered with sensational depictions of lesbian sexuality. Sometimes lesbian sex, even just the implication of it, is tossed into a film apropos of nothing, and often just for the benefit of the male main character. But in Rachel Weisz's new film Disobedience, which she both starred in and produced, the dynamic sex scene feels both true to the characters and crucial to the plot. As she told the New York Times in April, it was important to Weisz that this sex scene be "essential" to the film, which tells the story of a forbidden love between two women in an ultra-religious community.
Weisz and director Sebastián Lelio certainly had plenty of examples of how not to shoot the sex scene between Weisz's character, Ronit, and her lover Esti, played by Rachel McAdams. There are films that throw in an added level of exoticization by having male characters literally spy on women, like in Wild Things (1998), when Kevin Bacon's character films from the bushes while Suzie (Neve Campbell) and Kelly (Denise Richards) have sex in a swimming pool. Or in American Pie 2 (2001), when the crew of boys at the center of the franchise finds itself hiding in a closet, spying on two women who the boys believe to be lesbians. The women aren't even gay, but the scene devolves into a cringeworthy fetishization of lesbian sexuality on display for the young men onscreen and off.
And there are countless movies where lesbians are little more than window dressing — for the briefest moment in the 2001 action film The Fast and the Furious, as the (male) main characters walk through a house party, they pass two nameless women passionately kissing. Their motivations are unclear but the message isn't — they're there for the visual pleasure of the men in the film, and, by extension, the men in the audience.
That question of who's watching is central to onscreen depictions of lesbian sex, and whether or not media succeeds at representation. "There is a long history of films that have included girl-on-girl scenes meant to be titillation for male viewers," Megan Townsend, director of entertainment research & analysis at the advocacy group GLAAD, said in an email on Tuesday. "These scenes further a cultural narrative that does not allow women — and queer women specifically — to own their sexuality and desires."
This issue is succinctly categorized as the presence of the "male gaze," a term coined by film theorist Laura Mulvey in a 1975 essay. As Townsend explained it, the male gaze is widely understood to be "the presentation of the world through the perspective of a straight man's viewpoint, meaning that the women are presented as an object for a man's pleasure rather than people with agency and a story of their own."
Avoiding that presentation seemed to have been on Weisz's mind in her latest film. Her character in Disobedience, Ronit, is a New York artist who, after a death in the family, returns home to the isolated Orthodox Jewish community outside of London where she grew up. There she reconnects with McAdams' Esti, with whom she had a love affair in her youth. Esti is still religious, married to Dovid, their childhood friend, and still in love with Ronit. The single sex scene between the two women is in many ways the centerpiece of the film, and heavily features close-ups of the two women's faces, letting the audience imagine what might be happening with the rest of their bodies.
"I don't know if male actors ask this question but I know women normally think, 'Is this sex scene really necessary?' And in this case, it's essential," Weisz told the Times. "The whole story of repression leads up to this moment. I think, particularly for Esti, the release of this big orgasm that she had was also a spiritual moment. It's about freedom."
Weisz added that she cosigned director Lelio's decision to cut her character's orgasm. "It was too many orgasms," she said. "Esti's was more important, and it robbed her of that." The added effect is that the scene feels to be much more from Ronit's perspective than that of a third person, challenging the ever-present male gaze.
But, as Nick Davis, an associate professor at Northwestern University whose work specializes in film theory and gender studies, said in a phone interview on Wednesday, even films that approach lesbian sex scenes thoughtfully have a hard time shrugging off the cultural baggage of onscreen lesbian sex.
"The history of objectification of women almost already pollutes the representations of female sexuality — any kind of female sexuality — as vulnerable to objectification," Davis said. So when you're watching two women together onscreen, the "cultural narratives often written by men about why that's titillating" can seep into the art, he said, "even if all the care in the world went into how it was produced." As Davis put it, "given the history of objectification of women, exoticization of lesbians and the kind of power dynamic inherent in you being a voyeur watching somebody else have sex, it's maybe a hard thing to reconcile no matter what."
The presence of the male gaze isn't always theoretical. Sometimes it's on set, as was the case with the French film Blue is the Warmest Color (2013), likely the most discussed portrayal of lesbian sexuality in recent cinema history and a movie to which Disobedience has been compared. Blue is the Warmest Color was praised for a "naturalistic" depiction of the romantic relationship between the two main characters, but it's graphic and lengthy sex scene, during which the two women are artfully arranged in various positions, was criticized for straying into objectification — and for director Abdellatif Kechiche's on-set behavior.
Adèle Exarchopoulos and Léa Seydoux, the stars of the film, revealed in an interview with the Daily Beast that working with Kechiche, especially on the sex scene, was an uncomfortable experience. Exarchopoulos described how Kechiche wanted to film the sex scene "without choreography."
"He asked me if I was ready to make it, and I said, 'Yeah, of course!' because I'm young and pretty new to cinema," Exarchopoulos told the Daily Beast at the time. "But once we were on the shoot, I realized that he really wanted us to give him everything. Most people don't even dare to ask the things that he did, and they're more respectful."
And Julie Maroh, the author of Le Bleu Est une Couleur Chaude, the graphic novel that inspired the film, called the sex scene "a brutal and surgical display, exuberant and cold, of so-called lesbian sex, which turned into porn."
But how should creators approach lesbian sex onscreen responsibly, especially if they themselves aren't lesbians? Both Townsend and Davis brought up the 1996 movie Bound, directed by the Wachowskis, who notably brought sex educator Susie Bright on set to help choreograph the sex scenes between Jennifer Tilly and Gina Gershon's characters.
Weisz hasn't mentioned any consultants helping out with the sex scene in Disobedience, but, again and again, she's made it clear that she approached the scene with care. Speaking to Stephen Colbert in an appearance on The Late Show this week, she told Colbert that she wasn't bothered by the buzz around the sex scene, reiterating the scene's importance to the plot.
"The whole film is about the repression of love and desire," Weisz said. "In this instance, for me, the love scene is kind of the heart and soul of the movie. And it's about desire and spirit and becoming who you really are and loving who you really want to love. I think it's very important."