A very important look at every time Ivanka Trump went to the Met Gala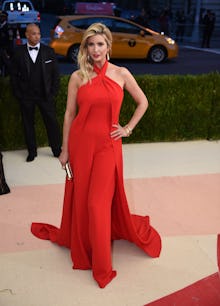 The only person who loves the Met Gala more than Donald Trump is, perhaps, Ivanka Trump.
Donald Trump and Melania Trump have attended the gala together a whopping nine times, and Donald Trump himself attended the party plenty more since he started going with his first wife, Ivana Trump in the '80s. Now Ivanka is well on her way to matching her father's number of appearances, attending the gala 12 times between 2004 and 2016, with possibly more in the future.
The only person we can think of who has as faithfully attended is Anna Wintour, who's led the event since 1999, and since announced that she has no intention of ever inviting Donald Trump again. Ivanka though? That's still to be decided.
As the 2018 Met Gala is now less than a week away, we thought it'd be fun to look back at the many times Ivanka attended the gala, and the many fashions she attempted to pull off while there.
2004
Ivanka Trump's history at the Met Gala begins in 2004, when we were all younger and blissfully unaware of how this family would become the center of our news universe in 12 years.
As with most things that happened in 2004 (the breakup of Bennifer, Britney Spears marrying that dude in Las Vegas, the entirety of Ashlee Simpson's singing career), the images from that night are ... bleak. This was the first gala that Donald and Melania Trump attended together, too, and Ivanka was right beside them on the red carpet.
Not weird at all.
2005
Trump was back at it again the very next year, attending the gala — a celebration of the label Chanel — in a black, frilly, chiffon, kinda Chanel-y dress.
Her father was at this one too, but didn't take the time to pose with her.
2006
Remember when this particular style of dress — brown chiffon with a low-cut neckline and a satin bow at the waist — was everything? Unfortunately we do too.
But hey, just blame this whole thing on it being 2006.
2007
Between the messy top knot hair, the drop diamond earrings, the hair parted down the middle and the dramatic color blocking on the dress (courtesy of designer Jason Wu), this is what every girl in 2007 wanted to look like at prom.
2008
Now here's a dress Ivanka Trump would probably never be caught in today. The theme of the night was superheroes, and Ivanka went for, like, some kind of goddess? Maybe?
The dress itself, by J. Mendel, is actually quite pretty, and Trump walked the red carpet alongside the designer as well.
For a bit more superhero-y flair, she added a diamond headpiece. Think of it as a relaxed tiara.
2009
2009 was a big year for Ivanka Trump at the Met Gala because, for the first time ever, she brought along a plus one. And who was this plus one? That'd be Jared Kushner, of course, who'd be her husband in a mere few months. Oh, happy day.
The dress Trump wore — in line with the night's "model as muse" theme — was a swirling, pale pink Brian Reyes number with a bit of an unruly train and black accessories.
2010
The next year at the gala, which had a theme centered on American women, the two walked the red carpet together once more, with Kushner in a tux and Trump in a sparkly, beaded lavender Atelier Versace gown with a waterfall train on the back.
It was quite mermaid-esque.
2012
After skipping the big event in 2011, Kushner and Trump were back at it again in 2012, at the gala celebrating designers Elsa Schiaparelli and Miuccia Prada. For the night, Kushner was yet again in a tux (honestly, it might be the same one) while Trump wore a blue velvet Peter Pilotto dress with sheer cutouts and a dramatic, geometric neckline.
Peep the bangs.
2013
This is Ivanka Trump's attempt at punk. The theme of the 2013 Met Gala was the punk aesthetic and punk-inspired couture. For Trump, that meant showing up in a blue and green Juan Carlos Obando dress, spiky gold accessories, a black leather belt and deep-turquoise strips of hair.
Kushner was there, too, unfortunately sans any punk accessories.
2014
This is a gown that wouldn't be that surprising to see Trump in today. For the 2014 gala, with its theme centered on master couturier Charles James, Trump wore this chartreuse ballgown from Oscar de la Renta, who remains a favorite of hers.
2015
The 2015 Met Gala is most widely known for being the site where Rihanna almost sent everyone on earth into cardiac arrest because of that glorious sunshine yellow Guo Pei outfit. But hey guys, Ivanka and Jared were there too.
For a night celebrating Chinese design, Trump wore a traditional blue and white A-line dress, with a dramatic striped train by Prabal Gurung, a designer who has since spoken out against Trump's father's policies and expressed unease about ever dressing Melania Trump.
2016
And this is where this story ends — for now. 2016 was the last year we saw Trump and Kushner on this particular red carpet, as her father's campaign was well on its way to changing the landscape of American politics forever.
The theme of the night was fashion and technology, which isn't so evident based on the couple's ensembles. Trump wore a bright, Republican-red jumpsuit from Ralph Lauren, who openly favored Hillary Clinton at the time, and Kushner wore that same damn tux.
The next year, as the couple both became active parts of Trump's father's administration, reports claimed that they were simply "too busy" to attend. In 2018, we highly, highly doubt they'd be up for it. Trump's father was banned, by Wintour herself, after all, and it'd certainly be torturously awkward.
Maybe next year will be different though.