The leaked Mueller questions give a rare peak into Trump-Russia probe, but uncertainty remains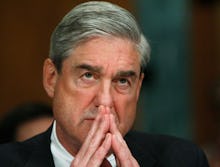 Given how tight-lipped Robert Mueller and his team of investigators have been over the last year, the special counsel's questions for President Donald Trump that were leaked to the New York Times on Monday would seem to finally give the public a welcome glimpse into the Russia probe.
Indeed, the dozens of queries published by the Times do hint at the threads Mueller is looking to tie up in a possible interview with the president. The question of collusion between the Trump campaign and the Kremlin, for instance, appears to remain open — and may involve previously unreported outreach by former campaign chairman Paul Manafort.
The list of questions also seems to confirm Mueller is examining potential obstruction of justice in the president's firings of Michael Flynn and James Comey — as well as his involvement in explaining away the 2016 meeting Donald Trump Jr., Jared Kushner and Manafort had with a Kremlin-connected lawyer they believed had dirt on Hillary Clinton.
However, former federal prosecutor Patrick Cotter said it's important to be wary of extrapolating too much from the reported question list — especially because, as the Times noted, they were leaked not by the special counsel, but indirectly from Trump's legal team.
"I am guardedly skeptical that these are full or completely accurate versions of the actual questions Mueller would seek to pursue," Cotter said in an interview. "Whoever leaked them may well have edited them to suit their own purposes."
What the leaked questions tell us about the probe
Trump claimed Tuesday that the published list of questions did not include any on collusion.
"Oh, I see," Trump tweeted. "You have a made up, phony crime, Collusion, that never existed, and an investigation begun with illegally leaked classified information. Nice!"
Though Trump is correct that the word "collusion" doesn't appear in the list of published questions, it's not accurate to say the questions don't address collusion.
Indeed, the list includes a significant number of questions related to the topic, including inquiries into Trump's knowledge of his eldest son's meeting with Natalia Veselnitskaya; discussions he may have had with members of his campaign about meetings with Russian President Vladimir Putin; and any knowledge he had about Russian hacking.
Cotter said much of that comes as little surprise.
"The questions strongly suggest that Mueller is doing pretty much exactly what legal observers and most thoughtful analysts expected him to be doing," Cotter said.
A couple of collusion-related questions do jump out, though.
First, there's this one: "What knowledge did you have of any outreach by your campaign, including by Paul Manafort, to Russia about potential assistance to the campaign?"
As the Times' Michael Schmidt and Matt Apuzzo noted Monday, the specific mention of Manafort is interesting because there is no public knowledge of Russian outreach on the part of Manafort, though he was present for Trump Jr.'s meeting with Veselnitskaya, the Kremlin-connected attorney, in 2016.
Manafort, who ran Trump's campaign in the summer of 2016, is facing numerous charges as part of Mueller's probe, many related to his work for pro-Russian interests in Ukraine.
He has pleaded not guilty and has attempted to challenge Mueller's authority in court. A judge last week dismissed Manafort's suit challenging the scope of the special counsel's investigation; on Monday, Manafort filed a new complaint arguing the leaked questions for Trump "impugn[ed]" his character and could undermine his right to a fair trial.
His longtime associate, Rick Gates, cut a plea deal with the special counsel in February and has been cooperating with investigators since.
Another potentially revealing question relates to Trump's relationship with the Agalarov family.
"During a 2013 trip to Russia, what communication and relationships did you have with the Agalarovs and Russian government officials?" the question reads, according to the Times.
Aras Agalarov — a Putin-connected real estate developer known as the "Trump of Russia" — and his pop singer son, Emin Agalarov, played a key role in Trump bringing the Miss Universe pageant to Moscow in 2013. Trump mused about the possibility of the Russian president "[becoming] my new best friend" at the event.
According to Cotter, the question is significant because it suggests Trump's past business dealings with Russia — which date back to at least 1987 — may be in play for the special counsel.
"The mention of the Agalarovs suggests to me that Russian business connections are indeed part of the Mueller probe," Cotter said.
As for the rest of the questions, the majority seem to address the possibility that Trump obstructed justice — and once again, there are few surprises.
The leaked questions delve into now-infamous episodes surrounding the 2017 firings of Flynn, Trump's former national security adviser, and Comey, the former director of the FBI. They also include queries about the president's actions toward Mueller himself — including his reported attempt to terminate the special counsel last summer — and his attacks on top FBI and Justice Department officials, including Attorney General Jeff Sessions.
Trump dismissed the notion of obstruction Tuesday on Twitter, writing, "It would seem very hard to obstruct justice for a crime that never happened!"
But this is untrue: Bill Clinton was impeached for obstruction of justice for lying about his relationship with Monica Lewinsky, not about an underlying crime. The reported line of questioning regarding obstruction could prove perilous to the president.
A big reason for that, as the Washington Post's Aaron Blake pointed out Tuesday, is that the leaked questions suggest Mueller may see Trump's public statements and tweets as fair game.
For example, consider this question about Flynn's termination: "How was the decision made to fire Mr. Flynn on Feb. 13, 2017?"
In December, the day after Flynn pleaded guilty to lying to the FBI, Trump claimed on Twitter that he had to "fire General Flynn because he lied to the Vice President and the FBI."
The tweet raised significant questions about the timeline surrounding Flynn's firing and suggested Trump was aware Flynn had lied to Vice President Mike Pence and the FBI about the nature of his Russia contacts when he fired acting Attorney General Sally Yates — who warned the White House about the short-lived national security adviser days before she was fired — as well as when he allegedly asked Comey to kill the FBI's Flynn probe.
As Blake noted, Trump misleading the public about his actions could be used against him by the special counsel; Kenneth Starr, who executed the Clinton probe in the 1990s, used the president's "misleading public denials" about his sexual relationship with Lewinsky in his investigation, even though Clinton was not under oath at the time he made those statements.
That could present a significant problem for a president known for making careless and deceptive public statements.
What the questions don't tell us about the probe
Still, the Times' report leaves a lot of questions unanswered.
We don't know what Mueller has learned after close to a year of investigating and interviewing witnesses and Trump allies who have flipped.
Trump's status in the investigation also remains somewhat mysterious.
Rod Rosenstein, the deputy attorney general overseeing the Mueller probe, reportedly assured the president this month that he's not a current target of Mueller's inquiry. But that can change, and some legal experts — including former federal prosecutor Joyce White Vance — have said the list of questions seem to be aimed at a "target" of an investigation rather than "a subject or a witness."
The source of the list is also grounds for skepticism.
Trump implied Tuesday that investigators were to blame, tweeting that providing the list to the media was "disgraceful."
But the Times reported the questions were "read by the special counsel investigators to the president's lawyers, who compiled them into a list" that was then "provided to the Times by a person outside Mr. Trump's legal team." It's not clear who leaked the questions, but some have speculated it was someone close to or affiliated with the president's lawyers. In any case, as Cotter said, the final list of questions could wind up being different.
Of course, that presumes Trump agrees to an interview with Mueller — something that also remains uncertain.
The president apparently became wary of a sit-down with Mueller after the FBI conducted a raid on his longtime personal attorney and fixer Michael Cohen last month, but Rudy Giuliani — who recently joined Trump's legal team to "negotiate an end" to the Mueller probe — has reportedly been discussing arranging an interview with the special counsel.
According to reports, Giuliani is currently attempting to feel Mueller out — particularly to determine how much he trusts Comey, who has been sharply critical of Trump in recent weeks and whose accounts of his interactions with the president could prove damaging.
"At this stage of an investigation, it'd be highly unusual to let an ordinary client testify," Giuliani told the Times last week. "This isn't an ordinary client. This is the president of the United States."