2 of Scott Pruitt's top aides unexpectedly quit amid 11 investigations into EPA spending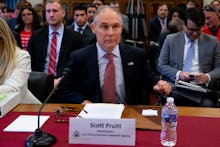 Two top aides to Environmental Protection Agency administrator Scott Pruitt quit their jobs amid investigations into their tenures at the agency, the New York Times reported on Tuesday.
Albert Kelly, who ran the EPA's Superfund program that provides funding to clean up hazardous waste sites, and Pasquale Perrotta, who was Pruitt's chief of security, have left the agency.
Their resignations come as Pruitt faces 11 federal investigations into alleged ethical and spending violations at the EPA, including buying a $43,000 soundproof phone booth, security detail spending and a rental agreement with the wife of a lobbyist who lobbied the EPA.
Perrotta — a former Secret Service agent — is implicated in some of the spending violation allegations, as he helped come up with justifications for the security detail spending. Pruitt had 24/7 security that included 19 agents and at least 19 vehicles, according to CNN. The cost of salaries alone for that detail would run taxpayers at least $2 million per year, CNN found.
Perrotta is scheduled to be interviewed by the House Oversight Committee on Wednesday as part of the committee's probe of Pruitt's alleged conduct.
Pruitt, however, praised both men.
He said Kelly will be "sorely missed."
"In just over a year he has made a tremendous impact on E.P.A.'s Superfund program, serving as chair of the Superfund Task Force and presiding over the development of the steps necessary to implement the recommendations in the report," Pruitt said of Kelly in a statement to the New York Times.
And of Perrotta, Pruitt described a man who has "selflessly served the American people for more than 23 years."
"His hard work and dedication will be missed by all those who worked with him," Pruitt said of Perrotta in a statement to the New York Times. "I want to thank him for his service and wish him the very best in retirement."