For safety reasons, Facebook's dating feature doesn't let you send photos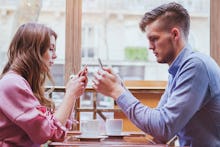 Facebook announced its plan to take on Tinder and other dating apps at F8 2018 in San Jose, California. on Tuesday.
Facebook's dating section will tie into your existing Facebook account to show photos to potential prospects, while making sure you don't connect with your real-life friends. The new section of Facebook relies on users' relationship status being set to "Single."
The Dating section won't show you friends, but will show if you have friends in common with someone. Facebook's dating section will protect your privacy from other Facebook users like only showing your first name to other dating prospects, for example. Facebook made no mention of how the data gathered from the new dating section will be shared with advertisers.
The Dating pane will have an Events section that users can unlock. Once unlocked, other Dating users can see who else wants to attend the event and message them.
During Facebook's demo of the new Dating section, the company noted that users can set up their profile by tapping the new icon in the top right of their normal Facebook profile. They then can browse other users' profiles, browse through pictures and even comment on them.
During the presentation, Chris Cox, chief product officer at Facebook, noted that discourse will be via text only. "If he wants to respond, he'll do so in a private messaging inbox connected to the profile," Cox said. "This is text only as a safety measure."
While those in the Dating section can comment privately on a photo, they can't upload a picture with the specific purpose of direct messaging the person they're talking to.
As shown in the demo, users can comment on the photo in this private inbox, but uploading and sending a photo in this private space is not allowed. Cox noted that the messages in this inbox are not connected to Facebook Messenger or WhatsApp.
Other popular dating apps prevent users from uploading and sending pictures like Tinder and OKCupid. Others, however, like Grindr and Bumble (shown above) allow users to choose a photo from their camera roll to send someone. Removing the photo upload ability reduces the chances of users receiving an offensive photo from a stranger.
Similarly, Facebook recently introduced upvote and downvote arrows to comments in certain regions to better address hate speech on the site. A tooltip next to the down arrow reveals this is in an effort to reduce bad comments.
The F8 developer conference, which runs until Wednesday, brought other news in addition to the new dating options. The company introduced the Groups tab, an update to Facebook Messenger and a way to clear your Facebook history. Facebook also unveiled AR camera effects for Instagram, group video chat for both Instagram and WhatsApp and the launch of the Oculus Go headset for $199.