Exclusive: Kim Kardashian West has talked to White House about pardoning nonviolent drug offender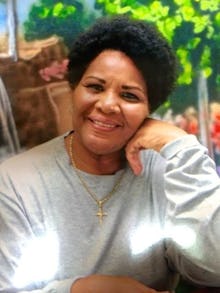 Kim Kardashian West and President Donald Trump's son-in-law and senior adviser Jared Kushner have spoken over the phone about a possible presidential pardon for Alice Marie Johnson, a 62-year-old great-grandmother serving a life sentence for a nonviolent drug offense.
The telephone calls, according to a source with knowledge of the conversations, have taken place over the course of the past several months and have picked up in intensity over the last several days.
A representative for Kardashian West confirmed to Mic that she has been in communication with the White House and is working to bring Johnson's case to the president's desk.
The source with knowledge of the conversations also told Mic that Johnson's case has been reviewed by White House attorneys.
Johnson, who has been in federal prison since October 1996, has captured international attention from criminal reform activists — and Kardashian West.
Kardashian West first learned about Johnson's case from a Mic video published in October. Kardashian West shared it on Twitter, and the video has since been viewed more than 8 million times.
Shortly after, Kardashian West became involved in trying to free Johnson, who was convicted for her role facilitating communications in a drug trafficking case.
In November, Kardashian West enlisted a team of lawyers, including her Los Angeles-based attorney Shawn Holley, to advocate for Johnson's release.
The two women also have communicated, with Johnson expressing her gratitude toward Kardashian West for her support in a November letter.
Still, it appears the only clear path for Johnson's release would be a presidential pardon or clemency — which could come at odds with Trump's recent proposal to impose the death penalty for certain drug dealers.
In her October op-ed, Johnson told Mic she became involved in drug trafficking as a way to make ends meet following a particularly rough period in her life: She lost her job at FedEx, where she had worked for 10 years, due to a gambling addiction; she got divorced; and then her youngest son died in a motorcycle accident.
"I felt like a failure," Johnson said. "I went into a complete panic and out of desperation, I made one of the worst decisions of my life to make some quick money. I became involved in a drug conspiracy."
Johnson was arrested and sentenced to life in prison, with no opportunity for parole. As of May 2018, she has spent over two decades behind bars.
For criminal justice reform advocates, Johnson's case serves as a glaring example of why America's sentencing laws need reform.
Johnson was one of six prisoners featured in the ACLU's campaign to end mass incarceration. She has also participated in Skype conversations at top universities including Yale and New York University, as well as at companies such as Google, where Mic first became aware of her story.
One of Johnson's daughters, Tretessa Johnson, told Mic in a video in November that her mother is remorseful and has been a model prisoner during her time behind bars.
"She's made some serious mistakes in her life, but she is not this monster," Tretessa Johnson said in that video. "I mean, she's really turned a very negative situation to as positive of a situation as she can."
President Barack Obama granted clemency to 231 individuals in December 2016, many of whom had similar drug-related charges. Johnson was not one of them.
"When the criteria came out for clemency, I thought for sure — in fact, I was certain that I'd met and exceeded all of the criteria," Johnson told Mic. "Oh my goodness, I had so much support."
Now, her hope rests with Trump.
News of Kushner and Kardashian West's conversations comes on the heels of multiple reports in recent months that Kushner has been working to pass a bipartisan criminal justice reform bill in Congress, co-sponsored by Doug Collins (R-Ga.) and Hakeem Jeffries (D-N.Y.), among others.
The Prison Reform and Redemption Act would enact federally sponsored programs to help prepare prisoners for reentry into society, with the aim of reducing rates of recidivism. However, these efforts appear to have stalled as a result of growing opposition from leading Democrats in Congress, who believe the proposal doesn't go far enough to address other key criminal justice issues, like sentencing reform.
Nonetheless, criminal justice reform remains one of the top issues in Kushner's policy portfolio. He, alongside his wife and assistant to the president, Ivanka Trump, have hosted a series of bipartisan dinners over the past year in order to build support for the issue in Congress.
It remains to be seen whether Kardashian West, Kanye West, Kushner or Trump will meet in person in the coming weeks to discuss Johnson's case.
For more information on the movement to free Alice Johnson, visit mic.com/alice.