Mueller subpoena threat could drag out Russia probe even longer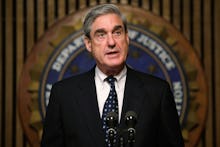 Welcome to Mic's daily read on Donald Trump's America. Want to receive this as a daily email in your inbox? Subscribe here.
Good morning from Emily Singer at Mic.
Here's what's happening in Trump's America:
• Environmental Protection Agency administrator Scott Pruitt continues to find himself in hot water.
About last night: Mueller threatens Trump with a subpoena
Special counsel Robert Mueller in March grew frustrated with President Donald Trump's legal team and threatened to issue a subpoena to compel Trump to testify before a grand jury as part of the Russia probe, the Washington Post reported late Tuesday night.
Mueller's threat came after Trump's lawyers said Trump isn't obligated to speak to investigators working on Mueller's probe.
If Mueller issues a subpoena, Trump's lawyers would likely fight it in court, which could drag out the Russia probe even longer. But there's precedent for a special counsel subpoenaing a president: Former President Bill Clinton received a grand jury subpoena from Kenneth Starr during the Monica Lewinsky probe, but Clinton wound up testifying voluntarily.
During that very same March meeting, Mueller's team agreed it would give Trump's legal team an idea of the topics it would ask Trump about in an interview. After receiving those topics, Trump's lawyer Jay Sekulow drafted the long list of questions that he thought investigators would ask Trump. That question list then leaked to the New York Times on Monday.
Trump decried that leak, calling it "disgraceful." But given the questions were drafted by Trump's legal team, the leak likely had to have come from Trump world.
Today in Trump's America: The hits keep on coming for EPA administrator Scott Pruitt
Pruitt finds himself in yet more ethical trouble after the New York Times reported taxpayers paid the cost of a trip Pruitt took to Morocco that was set up by one of Pruitt's lobbyist friends.
After the trip, that same lobbyist, Richard Smotkin, was then given a lucrative $40,000-a-month foreign agent contract by the government of Morocco, according to the New York Times.
Smotkin, who attended meetings with Pruitt during the Morocco trip, never publicly disclosed his role in setting up the visit, the New York Times reported.
The revelation is just the latest in a string of ethical troubles for Pruitt, who is facing at least 11 federal inquiries over his spending habits and ethical conduct as EPA administrator.
On Tuesday, the EPA announced two of Pruitt's closest aides quit, including Pruitt's head of security who helped justify some of Pruitt's lavish security spending.
Capitol Hill happenings: Pelosi says she's here to stay
Democratic candidates are running away from House Minority Leader Nancy Pelosi, saying it's time for a change in Democratic House leadership.
But Pelosi told the Boston Globe she has no plans to relinquish her leadership role, and she expects to be the majority leader after the midterm elections.
"We will win. I will run for speaker. I feel confident about it. And my members do, too," Pelosi told the Boston Globe.
Republicans have successfully turned Pelosi into a boogeywoman among their base, spending tens of millions of dollars in attack ads that prominently featured the California Democrat. It's a playbook the GOP plans to use again in 2018.
But Pelosi is still one of the best fundraisers in Congress. And the funds she's raising could very well help Democrats win back the House majority they lost in 2010.
And the rest…
What's up doc: Trump's former longtime doctor Harold Bornstein says that now-infamous letter in which he declared Trump would be the "healthiest individual ever elected to the presidency" was actually dictated by Trump himself, CNN reported.
California troubles: California's wonky top-two primary system — in which the two highest vote recipients advance to the general election regardless of party identification — threatens to shut Democrats out of some key House races this fall. That's because Democrats have a slew of candidates running who could splinter the vote enough to allow two Republican candidates to advance to the general election. On Tuesday, a Democratic candidate dropped out of the race in California's 48th District to try to avoid that very scenario.
Kim Kardashian West: The reality star and business mogul is in touch with Trump's son-in-law Jared Kushner to help seek a pardon for Alice Marie Johnson, a 62-year-old who is serving a life prison sentence for a nonviolent drug crime.
Ronny Jackson: The Pentagon launched an investigation into Ronny Jackson, the White House doctor who withdrew his nomination as Veterans Affairs secretary after a slew of allegations about his conduct, according to the Wall Street Journal.