This Nintendo Switch-controlled wheelchair is the best use for Labo yet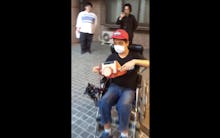 When the Nintendo Switch isn't being used by your favorite rappers or treated like an appetizer, it's powering wheelchairs, apparently.
Nintendo's cardboard attachments for the Switch, known as Labo, has numerous uses for people to experiment with. In its launch video, Nintendo touted the ability to create cardboard versions of a piano, a robot and even a virtual motorcycle to use with games — or in real life, if you're Twitter users @Takeru_FTX and @origamicat.
Using the Nintendo Labo's Motorbike kit, Takeru was able to hook it up to a motorized wheelchair to bring the world its first Nintendo Switch controlled wheelchair.
In videos uploaded to Twitter, we see how the Nintendo Labo's cardboard handles, when attached to the electric wheelchair, can be used for movement. Judging by the video, it appears the console's motion detection lets you control direction while twisting the handles affects acceleration.
This isn't the first time we've seen the Nintendo Switch modded for accessibility. Creators like Julio Vázquez created a holster for the Switch's controllers for one-handed play so his friend Rami could play after experiencing a stroke. There are also Nintendo titles like 1-2 Switch, which takes advantage of the console's controller design to allow visually impaired players like Rich Maroney the ability to play games with his wife on the Switch.