The best and most daring menswear from the Met Gala through the years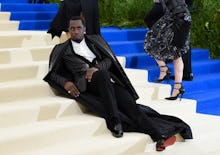 When you think about the greatest fashion moments in Met Gala history, naturally you think about the women: Rihanna in that illustrious goldenrod coat with fur accents in 2015. Beyoncé in that completely sheer Givenchy dress with crystal accents covering her most private bits in 2015. Kate Moss in that golden minidress with matching turban in 2009. Scarlett Johansson in that yellow Calvin Klein in 2004.
For the most part, men have shied away from fashion on this very fashion-forward night, preferring plain black tuxedos and shiny patent shoes. There have, however, been some exceptions. Especially recently, men have used the Met Gala to show off their high-fashion prowess, wearing outfits that would never fly at the Oscars, or even the Grammys.
And we've loved every second of it. In honor of the upcoming 2018 Met Gala on Monday, let's take some time to appreciate these dudes.
Elton John in 1995
To be completely honest with you, this look would fly with us today. We're always here for a modest black blouse and liquid-gold-looking slacks. The fact that Elton John 100% pulled off this look makes it all the sweeter.
Diddy in 2003
There is perhaps no greater picture taken in 2003 than this: Sean Combs, then known as P. Diddy, dancing the night away alongside model Gisele Bundchen, a supermodel in her prime.
This was just the beginning of Combs (who's now known simply as "Diddy") rocking some incredible menswear at the Met Gala, with the man opting for a sharp velvet tuxedo jacket and velvet tie that year.
Please take note of those impossibly 2003 sunglasses.
André Leon Talley in 2004
Former Vogue editor-at-large André Leon Talley has had a plethora of incredible Met Gala looks over the years, favoring shawls and massive coats, but this one is our favorite.
For a night celebrating fashion in the 18th century, Talley got romantic with frills and lace, and sweet accents like a suit jacket lined in bright red satin.
Diddy in 2005
In 2005, Diddy did it again. On a night honoring Chanel, dude came out in a pinstripe cream suit with silver shoes, tie and coat, which was hung over the shoulders of course.
He could not be beat.
Alexander McQueen in 2006
Sarah Jessica Parker's elaborate plaid McQueen look made it onto our own list of Met Gala looks that were risks that worked. So, naturally, designer Alexander McQueen's complementary ensemble, complete with kilt and tartan plaid, is on this list as well.
This is, in our opinion, one of the most iconic couples to have ever walked down along the gala's carpet hand in hand. Just look at them.
Designer Marc Jacobs paid homage to this exact look at the 2011 Met Gala, which celebrated McQueen's work, and showed up in a kilt.
Marc Jacobs in 2012
Speaking of Marc Jacobs, this list could simply not be complete without a notable mention of his outfit at the 2012 Met Gala. For a night celebrating designers Schiaparelli and Prada, Jacobs arrived in a completely sheer lace oversized men's shirt, worn like a dress, with white underwear, high black socks and bedazzled black Pilgrim shoes.
We live.
Miguel in 2015
We love a dude in a red suit. It's just that simple. To the 2015 Met Gala, which celebrated Chinese culture and fashion, Miguel bucked the Met Gala menswear trend of wearing a simple tux and slipped into a sharp red suit with black lapels.
Rami Malek in 2016
Isn't it weird that, up until May 2, 2016, this shade of blue didn't exist? Thanks to Rami Malek, who wore an entirely blue Dior suit with a matching blue bowtie, it now does.
We're forever thankful.
Donald Glover in 2017
In 2017, Donald Glover showed up to the Met Gala in a Burberry tuxedo jacket with a surprising yet elegant leaf pattern, and we haven't been the same since.
Rami Malek in 2017
Again, we are forced to appreciate a red suit. Rami Malek showed up in one by Dior in 2017, accessorizing with black patent platforms (we see you, honey) and a black flower appliqué across the pocket.
Diddy in 2017
Here's this guy again, in his most iconic Met Gala look to date. It was so incredible that he decided to lay down on the steps of the Met to show it off in all its glory. We don't blame him.
The suit and cape — a cape! — were designed by Rick Owens, with starburst lines creating almost an optical illusion.
The black patent shoes, with those red bottoms, were Louboutin, naturally.
If there is a god, she will ensure that there will be menswear looks on Monday worthy of this list.