The unsung hero of the Met Gala red carpet is, without question, André Leon Talley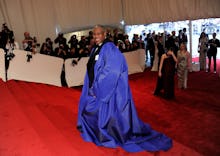 There are people who regularly go to the Met Ball — Kendall Jenner and Gigi Hadid among them — and those who regularly make the Met Ball — Rihanna and legendary former Vogue editor-at-large André Leon Talley.
While Rihanna's exceedingly wonderful looks on every Met Gala red carpet she's stepped on — that yellow Guo Pei! that stunning Comme des Garçons! — are internationally recognized greatness, we don't think Talley has really gotten the fashion appreciation that he's due after these galas.
Regularly a snazzy dresser himself, he always brings a certain extra something — a little oomph — that makes him one to watch on the Met Gala whenever he feels that it's worthy of his presence.
Met Gala fashion expertise from him began in 2003, with Talley — all 6'6" of him — arriving draped in a shiny pinstripe coat with hot pink accents, gracefully hung over a neat tuxedo.
The very next year, he pulled out what remains our favorite outfit of his, for the 2004 Met Gala that was all about 18th century fashion. He wore what looked like a traditional trench coat, if it was sent back in time 300 years for a little gussying up.
There's the ruffles at the sleeves and the train and volume and the tiny bit of red satin peeking out of his tuxedo jacket.
Next to Renée Zellweger in Carolina Herrera, he held his own.
Two years later in 2006, with the theme of British fashion and designers, he opted for an even more regal look.
In addition to his tuxedo, he wore a cream satin tie, a diamond broach, cream gloves and an intricately threaded, short gray coat that hung down to his knees.
The look complemented his date — Naomi Campbell — quite well.
With 2008 came a truly massive cape or coat of sorts, which Talley played around with on the red carpet with his red carpet companion, Venus Williams.
The night was all about superheroes, and so Talley's outfit made perfect sense. It looked like if Superman had 1) a better stylist and 2) dramatic flair.
In 2009, Talley brought politics to the Met Gala, with a picture of Barack Obama linked into his necklace, which featured black hearts.
His whole look was again — as always — a look that only he could pull off, essentially wearing a button-down and tie with an overwhelming cape over it.
And then there are the shoes, with those diamond buckles.
Now with the 2010 Met Gala comes the question: Does André Leon Talley always have the best gala dates?
The answer is yes. Yes he does. In 2010 he attended the gala with Whoopi Goldberg, wearing those diamond buckle shoes again along with a cream coat draped across his shoulders, which matched Goldberg's outfit.
On his T-shirt was a bedazzled emblem of the NAACP.
Here's another exciting coat for you. In 2011, for the gala honoring Alexander McQueen's designs, Talley showed up in a tuxedo with a giant, flowing, deep blue coat overtop it.
As for the shoes, he went for red patent leather, with matching red socks.
Again in 2013, he used his socks to show a bit of personality, choosing fuchsia socks for a pop of color.
In 2015, for the gala celebrating Chinese culture and fashion, Talley was at it again with his coats, wearing a bright red coat a la his 2008 outfit, except this one had a little bit of a modern twist, including cutouts in the sleeves.
Though there's no official press pictures of him from the 2017 gala, we know that he kept things relatively simple, wearing mostly black for the Comme des Garçons-centric night, as seen in this video from the night, courtesy of Vogue:
What we're hoping for this year is that he goes with something far more fabulous. There's a bit more buzz around Talley this year after all, largely because of a new documentary about his life, called The Gospel According to André, that's playing in select theaters.
We'll be hoping and praying that he shows up to the gala on Monday, but in the meantime feel free to watch the film's trailer below: