Meet Troy Allen, the young, queer designer helping to turn Savannah, Georgia into a fashion capital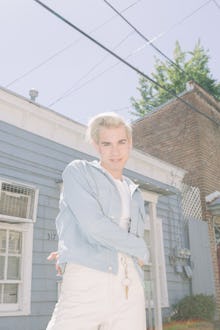 New York. Paris. Milan. London. Savannah, Georgia? If 22-year-old designer Troy Allen has his way, that won't be such an odd addition to the list of fashion capitals of the world.
It is here in Savannah where Allen presented his first major runway show earlier in May, a presentation of his fall/winter 2018 collection. He showcased 28 looks to an audience of over 650 people (with 150-plus onlookers who watched from outside due to fire safety codes).
"I really wanted to show people that I am a true product of the South, outside of the typical Southern mold," Allen said of the collection. "Being from the South and being openly gay doesn't always make the perfect match, but I've always been supported and never felt truly out of place."
Allen's love for fashion began, as it often does for a young gay boy, with an obsession with theatre. He started illustrating and designing costumes in seventh grade, when musicals Annie Get Your Gun and Wicked became his early favorites. He then found his way into another fashion-adjacent pursuit: classical ballet, where he also found time to help out with the design of the tutus.
"I was too scared to tell people I was into fashion," he said. "When people think of Savannah, they think of downtown Savannah, all these kids walking around, everyone's so open and free. But in town, once you cross Victory Drive, it switches to your traditional conservative Southern town and it's no longer as free."
In fact, that southern identity is something Allen says he rebelled against for some time, even making sure to drop what was once a thick southern accent. "I really wanted to hide it and basically not fit that Southern mold," he said.
As he entered into his sophomore year, a combination of an injury and burnout led to his decision to end what could have been a promising career in ballet. He finally decided to refocus on designing clothes. His informal fashion education began with Lady Gaga ("I still today get all of her tweets sent to my phone"). He first took notice of during her 2009 MTV Video Music Award performance — the one that ended with Gaga hanging by one hand in the middle of the stage, "bleeding" to "death."
"I typically become obsessed with things and so following Gaga, looking at her and what [her then-stylist] Nicola Formichetti did, they taught me who Steven Klein is, Jean Paul Gaultier, all these designers, Inez and Vinoodh, Marina Abramovic, all these art references, and it showed me that even if you're not in fashion, everything has to do with fashion," he said.
From there, he started to get serious about pursuing fashion, but realized he had a few things standing in his way.
It started with a desire to curate shoots, then the realization he had no clothes to pull for said shoots, then another realization that he'd have to make the clothes himself. Allen had a connection to Project Runway alum — and Savannah native — April Johnston, so he gave her a call. "I told her, 'Hey, um ... can I get sewing lessons?'" She happily obliged and gave him the keen advice to do a show.
At that point, Allen set out to design his first collection. The theme: yarn — heavily influenced by Rodarte, a Los Angeles-based fashion brand he started following. (Allen had taught himself to yarn at a yarn store in downtown Savannah that his father would drop him off at every Sunday after church.)
Seven weeks later, Allen produced his first eight-piece collection, most of it knitwear. "I didn't have the financial means to outsource; I could barely afford the fabric or the yarn," he said. But, despite it all, he became obsessed with the process — and took control over its many moving parts.
So he hastily created more collections.
What's particularly striking about Allen is his references: He's studied Galliano, he's inspired by Rodarte, he wears Eckhaus Latta. "Obsessed" is a word Allen uses over and over again throughout our interview, but the excitement never wavers.
"I like to start a collection/season by defining what I want to wear and have in my closet," he said. "I have a painter's coat that I got several years ago, and it's my go-to throw-on-and-go coat, so I want to create my own version and add it to my customer's closet."
After graduating high school early in 2015, he moved briefly to New York City for an internship at fashion retailer and clothing label V-Files. Upon arrival, however, he was dropped; he was told they had "too many interns." He was able to find a last-minute internship with designer Sandy Liang, who Allen describes as a goddess, and from there found his first mentor.
"Sandy really has such an eye for detail and treats each piece as its own," he said. "As a consumer you want to feel special and feel a part of that brand's world. Sandy really did that with each piece and taught me to think that way as well."
Then, he received a phone call from his grandfather telling him he should come back to Savannah. It wasn't a mandate, but rather an encouragement that being the bigger fish in a small pond would be a better start for him. He obliged his grandfather's request and applied at the Savannah College of Art and Design, where he just finished his junior year.
"I thought SCAD would be like a normal college, but it's kind of like going to Disney World," he said, citing the myriad opportunities the school has given him to deepen his understanding of fashion.
With that formal training and education, he felt ready to make a big splash in his hometown. And that place, the one that is home for his foreseeable future, is a city he looks at as a burgeoning fashion capital of the south. "Savannah has become the home base for designers such as April Johnston, Brooke Atwood and Emily Bargeron from Mamie Ruth. The city has given constant support and fully supported each of our visions."
So what does he want to do next? He's felt an urge to leave Savannah again — but ultimately knows he wants to stay put.
"I was going to go intern in LA this summer but I feel like after doing this big show, with all the funding that's gone into it, all the people believing in me, I feel like if I don't keep going and stay here this summer, set up shop and push this brand that once began as a research project, then I'd regret it and probably end up chain-smoking cigarettes," he said. "I don't smoke, but I feel like I'd start because I'd be so upset."