In strategy shift, Trump to replace lawyer Ty Cobb with Bill Clinton's impeachment attorney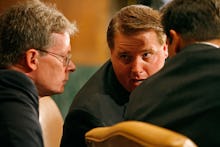 In the latest shakeup to his legal team, President Donald Trump is reportedly replacing lawyer Ty Cobb with Emmet Flood, the attorney who represented former President Bill Clinton during his impeachment in the 1990s.
According to the New York Times, which first reported the story, Cobb plans to retire but will remain at the White House through the end of May to assist in Flood's transition into the job of representing Trump in the Russia investigation.
The move comes at a particularly tense moment in the Russia probe, which Trump has continuously attacked as a "witch hunt." It further suggests the president's legal team is adopting a more combative approach toward special counsel Robert Mueller and his investigators.
Cobb, a former federal prosecutor, was hired in July to lead the White House response to the investigation, which is exploring the alleged collusion between the Trump campaign and Russia as well as potential obstruction of justice on the part of the president.
As Trump's attorney, Cobb publicly pushed a more cooperative approach with Mueller and repeatedly attempted to soothe Trump by assuring him the inquiry would wrap up soon — with his exoneration.
The probe has continued on, and although Deputy Attorney General Rod Rosenstein recently told Trump he is not currently a target of the investigation, a list of questions Mueller reportedly wants to ask the president— which was leaked to the Times on Monday — suggests Trump could be in legal and political jeopardy.
Rudy Giuliani, the former New York mayor who is now on Trump's legal team, is reportedly negotiating a possible interview between Trump and Mueller.
The former mayor's addition in April, along with the hiring of husband-and-wife white-collar defense duo Jane and Marty Raskin, seems to imply Trump is gearing up for a major legal battle.
Reports of Cobb's looming departure came quickly on the heels of an interview he sat for with ABC News, in which the attorney was quoted as saying a Trump-Mueller interview is "certainly not off the table."
In a statement Wednesday, White House press secretary Sarah Huckabee Sanders said Cobb had been "discussing his retirement" and let White House chief of staff John Kelly know last week that "he would retire at the end of this month."
Flood is a former special counsel in the George W. Bush administration and a white-collar attorney with a history of representing high-level government officials. He represented Clinton during his impeachment proceedings, which stemmed from his affair with White House intern Monica Lewinsky, as well as Hillary Clinton during the FBI's investigation into her use of a private email server.
Flood also represented former Vice President Dick Cheney in a lawsuit brought against him by Valerie Plame, the former CIA official whose identity was famously leaked to the press by Bush administration officials.
Flood's hiring is still unofficial, the Times noted Wednesday, but if he joins Trump's team, it would suggest the president is continuing to shift from Cobb's more cooperative approach to a more aggressive posture.