Rihanna casts gender-fluid model Jazzelle in latest Savage x Fenty campaign video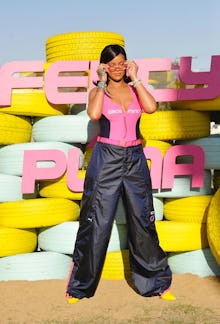 Every day that Rihanna debuts a new campaign video for her upcoming lingerie line Savage x Fenty, the clearer it gets that she understands what a truly diverse campaign should look like.
In videos thus far, models of various sizes and shapes and races have talked about their bodies and even their sexualities. Now the latest video stars Jazzelle Zanaughtti, a model who has walked in shows like Gypsy Sport and has been described as gender fluid, talking about gender.
"People think that I look like a boy, some other people say like, she has to be gay," Zanaughtti, who's signed to New York Model Management, says in the video. "Oh it's trendy to be, you know, gender fluid... I think that I'm honestly just like one big gender fuck."
In the video, Zanaughtti shows off a Savage corset, giving fans a sneak peek of what's to come from Rihanna's line.
In previous interviews, Zanaughtti has self-described herself as: "neither a man or a woman, but a creature."
"It's something I don't think about, to be honest with you," Zanaughtti told i-D, regarding gender. "I just do me! I love to feel my masculinity just as much I love to feel my femininity. At the end of the day: I'm just doing me and living my moment."
For a campaign that seems to be built on models speaking their minds and living as freely as they choose, Zanaughtti is a fit.