Florence's female artists are finally getting the attention they deserve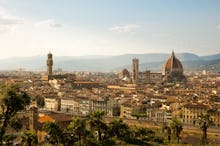 Beloved destinations often have overlooked histories. Mic dives into how the past shapes what travelers see today.
The most famous artists associated with Florence, Italy, have for the large part been men. On a daily basis, crowds gather around Michelangelo's David, jockey for the best view of Botticelli's "Birth of Venus" and climb to the top of Brunelleschi's dome.
But few know of the women who played a role in transforming this breathtaking city on the Arno into a cultural capital. Instead of celebrating the creative accomplishments of Florence's daughters, institutions and churches have relegated their work to their basements for centuries.
This is changing due to the persistence of the Advancing Women Artists Foundation, an American organization that has restored over 50 works by women artists in Italy. Now, you can see these Florentine masterpieces returned to their original dignity in the city's most esteemed museums. Inspired by AWA's monumental undertaking, I visited Florence to see the city through the eyes of its unsung women — from Renaissance artists to modern women masters of their crafts.
Female Renaissance artists in Florence
In 1737, the heiress Anna Maria Luisa de' Medici gifted the city of Florence with her family's priceless art collection. Now known as the Uffizi Galleries, it houses the most comprehensive collection of Italian Renaissance art in the world. Remarkably, the Uffizi also houses one of the largest collections of art by women created before the 19th century. With the encouragement of art activists Guerrilla Girls and the help of AWA, the Uffizi's director Eric Schmidt has committed to bringing as many of these pieces out of storage and into the eye of the public as possible.
Make reservations in advance to avoid the often long lines at Gli Uffizi, the Pitti Palace and the Boboli Gardens, which collectively create the Uffizi Galleries. The Gli Uffizi is a wonderland of Renaissance masterpieces and also home to the most famous work by Artemisia Gentileschi: "Judith Beheading Holofernes." Gentileschi, a Baroque artist and the first woman to be inducted into the Accademia delle Arti del Disegno in Florence, depicted women heroines in larger-than-life paintings with dramatic narratives and gory realities. This year, the work of Elisabetta Sirani, a prolific 17th-century painter from neighboring Bologna, takes the stage at the Uffizi in a temporary exhibition through June 10.
The Pitti Palace, across the Arno river from Gli Uffizi, is the former residence of three dynasties, including Florence's most famous patrons, the Medicis. On the first floor of this gargantuan palace, you'll find the Palatine Gallery, which includes works by Gentileschi. You can also see the work of Lavinia Fontana, who learned to paint from her artist father (as did Gentileschi). Fontana gained acclaim in her time for portraits of noblewomen, and eventually, female nudes. Her husband cared for their children and served as her assistant as Fontana became the first prominent female artist to work outside of a convent and a court. Fontana has the largest oeuvre of any woman artist prior to the 18th century.
Next, head to the beautiful Basilica of Santa Croce, known as the "Temple of the Italian Glories," where hundreds of prominent Italian figures (including Michelangelo and Galileo) are buried. In the church's cloister, you'll find a breathtaking monument sculpted by Fèlicie de Fauveau in 1854 of 17-year-old Louise De Favreau, a young poet who was buried at Santa Croce.
For something a bit less tourist-y, visit the free Museum of the Cenacolo of Andrea del Sarto by taxi. This former monastery is home to works by Plautilla Nelli, the original inspiration for AWA's mission. Nelli, a self-taught nun, ran a workshop in her convent. She's the only known woman to paint a "Last Supper" (the magnum opus of Renaissance artists), which speaks to her strength and influence as a painter. At San Salvi, you can see the depth of her talent in the beautiful painting known as "Saint Catherine in Prayer."
The legacy of Florentine artists extends past these brief highlights. For a more extensive tour, follow AWA's Women Artist's Trail or book a day tour.
Modern-day masters of craft
Supporting female artists goes beyond visiting museums. Boutique Nadine, on the Lungarno, sells independent Italian fashion labels alongside vintage clothing. For souvenirs, walk over the Ponte Vecchio and head to And Company in Oltrarno, co-owned by local designer Betty Soldi. The products (mugs, cards and everything in between) are her own designs or collaborations with local makers. Ten minutes down the street at Il Torchio, owner Erin Ciulla continues the traditional Florentine art of bookbinding in her studio, all with locally hand-painted paper.
Female-led restaurants in Florence
Women have always been the keepers of Tuscan culinary traditions, but historically, their legacy isn't as well-represented in restaurants. To learn about traditional Florentine cooking, I carved out a morning for Curious Appetite, a tour company run by Coral Sisk. Sisk arranged for me to take a cooking lesson with local Patrizia Cantini, whose home-cooking skills are matched only by her encyclopedic knowledge of local produce. Cantini took me to the Sant'Ambrogio Market to shop with her favorite farmers before teaching me how to make the Tuscan meal from scratch in her kitchen.
It can be exceptionally challenging for women chefs to break into the restaurant business in Florence. But if you know where to look, you can eat solely at women-run restaurants for an entire trip. The St. Regis Florence hosted me for a meal at their Michelin-starred restaurant Winter Garden by Caino, a collaboration between chef Valeria Piccini and Michele Griglio. Their decadent, seasonal interpretations of Tuscan cuisine are made more luxurious by the restaurant's surreal setting in the ornate dining room of the St. Regis palazzo.
Another worthwhile splurge is Enoteca Pinchiorri, under the helm of Annie Féolde — the only woman in Italy who has been awarded three Michelin stars. Nearby, Beatrice Segoni, the seasoned chef at Konnubio, serves modern interpretations of Italian fare with exceptional vegan and vegetarian options. At Gilda's, you'll feel as though you've entered a long-lost aunt's formal living room as the chef herself serves classic bistro dishes from a scribbled menu.
For pizza, head to La Divina, and for gelato, look no further than My Sugar — both run by families who are impeccable with local sourcing. No trip to Tuscany is complete without a few glasses of wine, and at Enoteca Bellini, Camilla Bellini serves wine from small producers accompanied by melt-in-your-mouth crostini.
Where to stay in Florence
Just as women have shaped Tuscan cuisine, they're at the heart of Italian hospitality in this magical city. Ad Astra, co-owned by designer Soldi, is an enchanting boutique hotel that overlooks Giardino Torrigiani, the largest private garden within a European city. Soldi designed every detail of Ad Astra herself, mixing the charm of old-world architecture with her own whimsical calligraphy and colorful knick-knacks.
If you're budget conscious, skip cheap hotels and opt for a cozy apartment. Piccola Suite Di Lusso co-owner Nermin Giuliattini provided a media rate and welcomed me into the apartment and shared all her local spots — most of which are just around the corner. With the added ambiance of church bells from nearby Sante Croce, her charming studio ensures you never forget you're in the heart of Italy.
The St. Regis Florence, which is home to Valeria Piccini's restaurant, is one of the most luxurious hotels in a city overflowing with palaces. I was hosted for one night in a palatial riverside suite with unparalleled hospitality. Filippo Brunelleschi, who designed the dome of the Duomo, also designed the elegant palazzo the St. Regis calls home, which once counted Queen Victoria as a guest. Have a Negroni on their terrace overlooking the Arno, and you'll understand why it's a view fit for a queen.
Correction: May 3, 2018